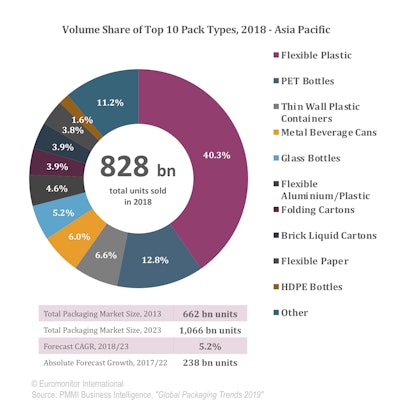 According to "Global Packaging Trends," a new report compiled by Euromonitor International for PMMI Business Intelligence, India is expected to have an absolute volume growth of 161.6 billion units by 2023.
In 2018, flexible plastic led among all the pack types in the AP region due to growing categories such as salty snacks, sugar confectionery, sweet biscuits, noodles, and detergents. Flexible plastic is expected to continue growing with an absolute volume growth of 118.6 billion units by 2023.
One specific category pushing the demand for smaller pack sizes in 2018 was sugar confectionery, as consumers increasingly prefer convenience, portability, and the zip/press closures on plastic pouches commonly used in confectionery packaging. Plastic pouches are expected to show a 47.7-billion-unit absolute volume growth by 2023 in Asia-Pacific.
Millennials with fast-paced lifestyles and changing demographics such as shrinking household sizes and an aging population, all influence packaging trends in the AP region and create demand for on-the-go consumption, portability, and lighter, small-portion pack types. Premiumization is also becoming more popular, particularly in areas of confectionery, beauty and personal care, and alcoholic drinks. Health-conscious Asians have also prompted manufacturers to use innovative packaging design and labels to stand out to these consumers.
Spotlight:
Japan, India, and Indonesia - growing demand for convenient-to-carry pack types and easy to open, lighter, and smaller portioned. Premiumization is key.
India, Singapore, and the Philippines – premiumization across multiple categories, including beauty and personal care and beverages.
Thailand – beverage packaging grew by a CAGR of 2.1% from 2013 to 2018, due to demands for smaller beverage pack sizes, particularly for soft drinks.
Source: "Global Packaging Trends," Compiled by Euromonitor International for the Packaging Machinery Manufacturers Institute (PMMI). PMMI Members can download the full report for FREE, here.
Australian Packaging & Processing Machinery Association (APPMA)
PMMI, The Association for Packaging and Processing Technologies
UCIMA, Italian Packaging Machinery Manufacturers Association
Symop, French Association for Manufacturing Technologies
Make plans to visit PACK EXPO Las Vegas, September 23-25, to see on-trend packaging machinery and materials.