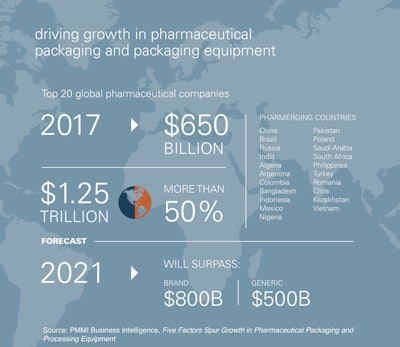 In 2017, the top 20 global pharmaceutical companies generated about $650 billion, more than half of the global pharmaceutical sales of about $1.25 trillion.
Global brand spending is forecast to reach between $815-832 billion in 2021, and global generic spending is expected to surpass $500 billion by 2021.
Most of the growth is coming from 21 countries the pharmaceutical industry labels "pharmerging." These countries include China, Brazil, Russia, India, Algeria, Argentina, Colombia, Bangladesh, Indonesia, Mexico, Nigeria, Pakistan, Poland, Saudi Arabia, South Africa, Philippines, Turkey, Romania, Chile, Kazakhstan and Vietnam.
The pharmaceutical sector is forecast to see the fastest growth to 2021, at a CAGR of 4.1 percent.
Source: PMMI Business Intelligence, "Five Factors Spur Growth in Pharmaceutical Packaging and Processing Equipment." Download this FREE white paper here.
Learn more about Pharmaceutical packaging and processing at Healthcare Packaging EXPO and PACK EXPO International, October 14 – 17, 2018, McCormick Place, Chicago, IL.