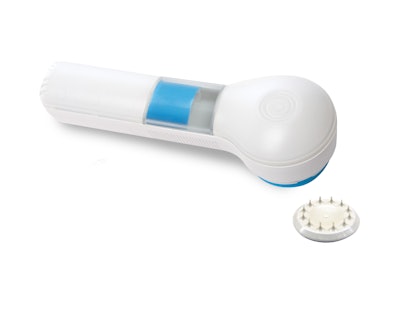 Early in 2017, Gaithersburg, MD-based Panacea Pharmaceuticals, Inc. announced that its first patient was enrolled and dosed in an open-label, parallel-designed, multi-center Phase I clinical trial to assess safety and immunogenicity of PAN-301-1 for the treatment of persistent prostate cancer.
The clinical trial vaccine is delivered through intradermal injection using 3M Drug Delivery Systems' hollow microstructured transdermal system (hMTS). It is delivered as "a quick injection via the hMTS, which is a patient-friendly microneedle delivery solution that is found to be less intimidating in human factors and other studies," according to both Panacea and 3M.
The development exemplifies the ongoing progress in cancer vaccine efforts, which can also be used when given in combination with other cancer therapies. The National Cancer Institute's website identifies two broad types of cancer vaccines:
• Preventive (or prophylactic) vaccines—intended to prevent cancer from developing in healthy people
• Treatment (or therapeutic) vaccines—intended to treat an existing cancer by strengthening the body's natural immune response against the cancer. Treatment vaccines are a form of immunotherapy.
Partners reach a milestone
Panacea Pharmaceuticals, Inc., describes itself as a clinical stage biopharmaceutical company developing novel biologically targeted cancer therapies and diagnostics for unmet medical needs. The company refers to PAN-301-1 as, "A de novo-engineered vaccine candidate that functions as an immune stimulator nanoparticle with hundreds of copies of an HAAH fragment on the surface of the nanoparticle.This vaccine is highly immunogenic and produces an HAAH-specific antibody response and significantly stimulates immune cells to target HAAH."
According to 3M Drug Delivery Systems, the first patient dosed in this Phase 1 clinical study marked "a milestone for both companies."
"Panacea and 3M have had a great relationship and we're excited to continue working with them," says Silvia Perez, President and General Manager of 3M Drug Delivery Systems. "Our hollow microneedles bring a new value proposition to their work with therapeutic cancer vaccines—offering the convenience of a transdermal patch paired with a high-volume, reproducible delivery capability to the dermis."
Steve Fuller, Ph.D., Panacea's Chief Operating Officer, notes, "Our pre-clinical studies have shown a potentially better immune response with the hMTS when compared to intramuscular dosing, and we've also seen good tolerability in safety studies. Because we need to deliver a 1-mL volume of our vaccine to the dermis, 3M's hMTS is the delivery method of choice for our therapeutic cancer vaccine project moving forward."
Contract manufacturing
Mark Tomai, Ph.D., Head of TLR and MTS Business Development, 3M Drug Delivery Systems Division, says 3M currently assembles the hMTS in a cGMP-controlled environment suitable for clinical supply "but as we progress towards a commercial product the manufacturing process will transition to larger volumes, which brings with it more automation."
Panacea's Fuller explains that the liquid biologic vaccine itself is filled into 3M glass cartridges by contract manufacturer Goodwin Biotechnology. The Plantation, FL-based firm provides research, development, validation and multi-gram manufacture of cancer drugs, protein toxins, antibodies and other biological molecules onto monoclonal antibodies and recombinant proteins.
Describing the filling/closing/labeling process, Fuller notes, "For the Phase 1 clinical study, the numbers of cartridges to be filled were small—two batches of 200 cartridges and one batch of 400 cartridges. For this purpose and scale of operations, the cartridges were filled by hand using a syringe and needle and a hand crimper for the crimp-top closure. For future larger batches, the cartridges will be filled using a calibrated pumping system. Ultimately, if the product is successful, it is anticipated that custom filling equipment will be advisable." He says the final filled device is considered a drug-device combination product, per the U.S. FDA.
Editor's note: This is an updated, expanded version of a story first posted Feb. 6, 2017.
Companies in this article