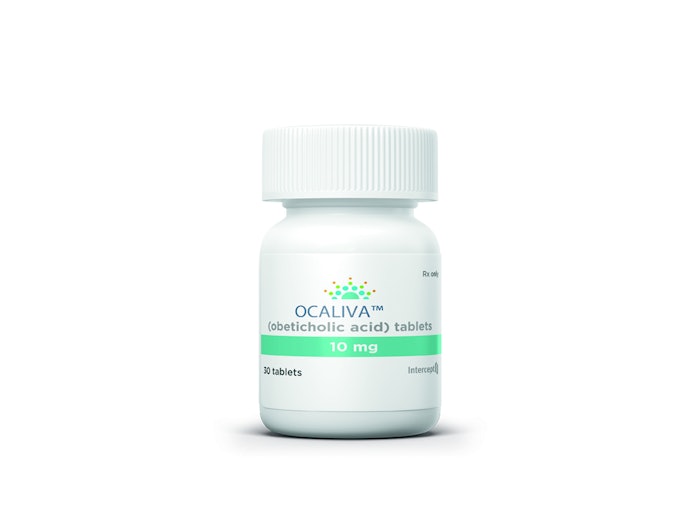 [Editor's note: This is an updated version of this story, which was initially published online July 19, 2016]
U.S. patients suffering with primary biliary cholangitis now can treat the chronic liver disease with Ocaliva™ (obeticholic acid), developed as a result of a partnership between biopharmaceutical firm Intercept Pharmaceuticals, Inc. and the Almac Group, a global contract development and manufacturing organization.
Ocaliva is classified as a pharmaceutical product, and was reviewed and approved by the U.S. FDA's Center for Drug Evaluation and Research. It is considered an orphan drug, a designation the agency gives to drugs and biologics intended for the safe and effective treatment, diagnosis or prevention of rare diseases/disorders that affect fewer than 200,000 people in the U.S.
Ocaliva tablets for commercial distribution in the U.S. are packed on Almac's high-speed bulk fill bottling line in its U.S. commercial packaging facility in Audubon, PA. The bottling line can fill tablets and capsules and uses electronic filling systems with in-line sensors to confirm fill count accuracy, labeling and component code and print verification. Ocaliva tablets are packed 30/bottle for commercial distribution. For commercial distribution in the EU, Ocaliva tablets are planned for packaging at Almac's U.K. commercial packaging facility in Craigavon, UK.
"Intercept chose Almac to partner with on this project as they could offer multiple services from bulk drug product manufacture to local packaging in both the E.U. and US markets," says Richard Lancaster, Intercept Pharma's Senior Director, Product Development.
Packaging components
For the bottling of Ocaliva, Almac sourced all packaging components on behalf of Intercept. These components were sourced from local suppliers who had been audited and approved by Almac and who committed to participate and reliably supply printed packaging components in line with Intercept's timelines as outlined in the Almac Rapid Launch program.
Utilizing Almac's commercial Rapid Launch program and delivered from its Audubon, PA commercial packaging facility, Ocaliva was packed and distributed May 31 to Intercept's specialty pharmacy network.
"The packaging components for Ocaliva tablets were determined based on performance, compatibility, and environmental protection," says Lancaster. "Ocaliva tablets have an established stability profile and are not considered sensitive to oxygen or moisture. A bottle size was selected to accommodate the 30-tablet count. A child-resistant cap and an induction seal were selected to provide appropriate protection. The shelf life of Ocaliva is determined from the date of manufacture of the tablets and is not dependent on the date it's packaged," he notes.
Founded in 2002 in New York, Intercept has operations in the U.S., Europe, Canada and Australia. Ocaliva represents the company's lead product. In May, Intercept announced that the FDA granted accelerated approval for Ocaliva, which it describes as the "first new medicine for PBC in nearly 20 years."
"Our collaboration with Almac will help address the unmet need in PBC by bringing Ocaliva to U.S. patients living with the disease," says Lancaster. "We look forward to a continued partnership as we prepare for the anticipated E.U. approval."
Companies in this article