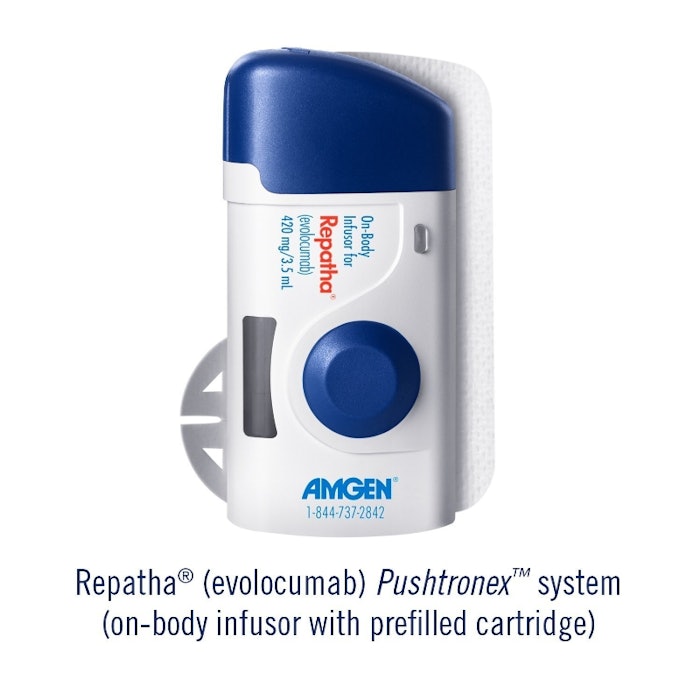 Biotechnology company Amgen announced that the U.S. FDA has approved the Repatha® (evolocumab) Pushtronex™ system (on-body infusor with prefilled cartridge), a new, monthly single-dose administration option. The Pushtronex system is a hands-free device designed to provide 420 mg of Repatha in a single dose.
Repatha is a human monoclonal antibody that blocks a protein called PCSK9 that inhibits the body's natural system for eliminating "bad" cholesterol (low-density lipoprotein cholesterol or LDL-C) from the blood. Repatha is the first and only PCSK9 inhibitor to offer a monthly single-dose delivery option.
The new, single-use device was developed in collaboration with West Pharmaceutical Services, based on the SmartDose® technology platform, to provide patients with an additional dosing option for Repatha treatment. The device adheres to the body—usually on the abdomen—and patients are hands-free during administration. Patients are able to perform moderate physical activities (such as walking, reaching or bending) as the 420 mg of Repatha is delivered subcutaneously.
West says the FDA approval represents the first combination product to incorporate SmartDose for use in the U.S. West's SmartDose technology platform allows patients to self-administer medication in accordance with their prescribed treatment. West developed the SmartDose technology platform with extensive human factors testing and analysis to understand the interaction between the patient and the delivery system. The SmartDose technology platform is an integrated solution of delivery and containment featuring a silicone-free Daikyo Crystal Zenith® cartridge and a Flurotec® coated piston containment system.
"The Pushtronex system exemplifies Amgen's continued innovation and commitment to patients," says Sean E. Harper, M.D., Amgen's Executive VP of Research and Development. "Repatha is the only PCSK9 inhibitor with an approved monthly dose, and now the only one with a monthly single-dose administration. The FDA approval of the Pushtronex system offers another delivery option to patients who need the additional LDL cholesterol lowering that Repatha can provide."
In the U.S., Repatha is indicated as an adjunct to diet and maximally tolerated statin therapy for the treatment of adults with heterozygous familial hypercholesterolemia (HeFH) or clinical atherosclerotic cardiovascular disease (ASCVD), who require additional lowering of LDL-C; and as an adjunct to diet and other LDL-lowering therapies for the treatment of patients with homozygous familial hypercholesterolemia (HoFH) over age 13, who require additional lowering of LDL-C.1 The effect of Repatha on cardiovascular morbidity and mortality has not been determined.
Companies in this article