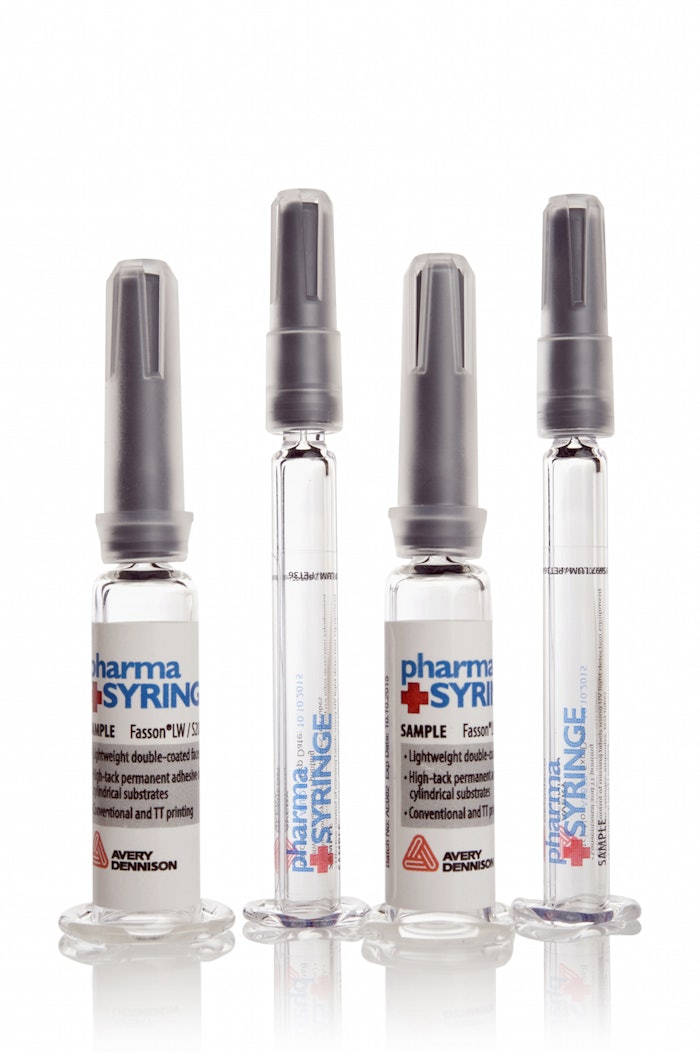 A label is a label is a label, right?
Not by a long shot.
Refrigerated and cryogenic conditions, global standards and regulations, biologics and biosimilars, migration issues, sustainability and other factors require consideration when evaluating what label materials and adhesives will work best in specific packaging applications.
"We've seen a lot of evolution of the market over the past few years with new technologies in medicine, particularly around biologics and biosimilars," says Alison Schuitema, Avery Dennison Product Manager, Pharmaceuticals—Materials Group North America.
"So with those advanced technologies come new packaging material needs. For instance, with biologics we see a lot of drugs packaged in syringes, ampules and vials. For us, that drives the need for label materials that will function on a small-diameter package. It will also drive the need for labels that will function in a cold chain environment. Those drugs can be temperature-sensitive and have to be kept cold, frozen, or even in cryogenic temperatures throughout the supply chain."
She says these are mainly liquid injectable intravenous drugs.
"We also see a trend toward plastic packaging for vials and ampoules," Schuitema adds. "They're lighter in weight and harder to break. Traditionally these had been glass. That's changing."
For Avery Dennison, she says, "that drives the need for labels that will adhere to low surface energy substrates. Plastic has lower surface energy, so it may require a different type of adhesive that will adhere to the lower surface energy substrate."
Dave Collins, Avery Dennison Marketing Director-Specialty, says that with biologics, "what's needed is a more aggressive adhesive that combines excellent, tight performance with good initial tack. You want it to grab, you want it to stay in place, and it has to have low migration characteristics."
Low migration is a critical characteristic for pharma/biopharma labels, says Schuitema, "especially for syringe applications. And now that matters more with the increasing switch toward plastic bottles, vials and ampoules. So that could be included in that adhesive, or in its chemical composition. Low migration means that none of the components in that adhesive are going to migrate through the packaging and into the product."
To address these issues, Avery Dennison encourages its customers to conduct their own testing with regard to package system, environmental and distribution. That testing includes the materials' ability to function as necessary through sterilization processes such as autoclave, gamma radiation, and ethylene oxide.
Testing process
Avery Dennison works with converters and sometimes end-user manufacturers to learn more about their products and package types in order to provide the appropriate labels and adhesives.
"We have 150-some odd adhesives," notes Collins. "We protect the customer and recommend which adhesive/label combination will typically work for their application. But at the end of the day they have the ownership and must conduct the testing for FDA approval."
Part of the challenge, Collins says, is that there is not one global standard for migration and other issues.
"We run into a lot of people making a lot of claims. Because of the various substrates and different type of drugs or biologics that go into the container, everything tends to be tested on an individual basis. The only thing that we're able to say is that this is a low-migration adhesive could work for them, based in part on the context of other adhesives."
Schuitema explains, "We will conduct testing if our customers come to us with specific environmental situations, or if they want to send in their primary package. We have the ability to do a lot of testing here. We have an advanced lab in which we can test a lot of conditions."
Two other significant issues involve photoluminescence and toxicology. The former involves adhesives that will fluoresce under a UV light. Picture a clear vial going down the packaging line with a clear label on it. Many times there will be a vision system in place to make sure that each vial has received a label. The label will flouresce as it passes the UV light, allowing the vision system to verify that the label is in place.
Regarding toxicology, Avery Dennison submits adhesives for testing to meet standards from agencies such as the FDA and organizations such as ISO. Toxicology testing has to do with sensitization, cytotoxicity, eye irritants, skin irritants and other matters. It's important to verify that the adhesive will not have any adverse effect if it happens to come in contact with a drug product, so third-party testing is done to verify that adhesives are suitable for those applications.
Working with converters
Avery Dennison works in a variety of industries, including pharmaceutical and biopharmaceutical applications, where it's been involved for decades. Its customers are typically converters, such as Nosco, that print and die-cut labels into the form that the drug/biopharma manufacturer or contract packager would use to label their product packaging.
On occasion, the end-user manufacturer/contract packager will involve their customer in the process. Schuitema notes, "We like when that happens because it gives us good visibility to the pharmaceutical and healthcare market as a whole. It helps us understand where we should be, and in developing new products to meet new applications. We like to keep as much visibility as we can within the life sciences industry to learn more about broader industry trends."
Avery Dennison labels are employed for both primary and secondary applications, typically to vials or bottles for primary packaging and to cartons and cases downstream. Other times, the labels will be used as a security seal with special characteristics to provide tamper evidence or anti-counterfeiting features. The supplier also produces blister-pack labels.
"Anti-counterfeiting and tamper evidence are two of the main areas in which we focus," Schuitema notes. "With the increased focus toward serialization, we're starting to get more involved with authentication and serialization as well."
She points out, "Counterfeiters are pretty sharp folks. We have to stay on our toes all the time and stay one step ahead. Many times it comes down to a partnership between us and our customers like Nosco, where we will provide special characteristics for the base material and the adhesive. Then Nosco will come in and add their special inks, their varnishes, or other coatings. Many times it's one label with several combined overt and/or covert security features that can be switched in and out if the drug manufacturer desires, to keep it up to date and always changing."
Collins says that Nosco would add additional value to Avery Dennison's tamper-evident or frangible films that will destruct if you try to peel them off. "When it comes to serialization, to watermarks, or printing specifics, that's where a converter such as Nosco would become involved."
Tim DuFour, Avery Dennison's strategic account manager, says, "We've had a longstanding relationship with Nosco for decades. They're one of our customers and are a leader in the industry in terms of converting labels and cartons, so our working with them is a natural fit."
Companies in this article