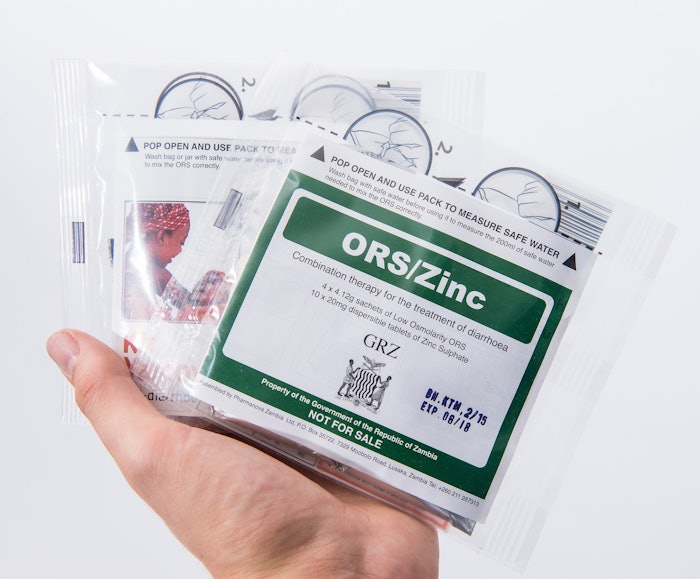 ColaLife has partnered with Amcor Flexibles to develop a lightweight Flexi-pack, or pouch, now being distributed in remote areas within Zambia to help battle childhood diarrhea (watch a video on the pack here).
In a customer-friendly design breakthrough, the lightweight Flexi-pack offers a measure for the water required to make up each of the four 200-mL sachets of ORS (Oral Reyhdration Salts) packed within it—vital in rural Africa, where households rarely have measuring utensils. The 2.4-mil pack is a 60-micron adhesive laminate of OPP/PE that's flexo-printed in three colors by Amcor Flexibles' Ledbury plant and made into a pouch at Amcor Flexibles' Pamela, Portugal facility.
Referred to as "Kit Yamoyo," the pack's design benefits won over the Zambian Ministry of Health, which has placed the first major public sector order for 452,000 kits, to distribute in some of the remotest, highest risk areas of the country. Distribution of the first 30,000 kits is now underway, manufactured locally in Zambia, in an adaptation of the award-winning Kit Yamoyo design which has been adapted to conform to the government's branding and requirements.
ColaLife's partners Keepers Zambia Foundation (KZF) and Medical Stores Ltd (MSL) signed an agreement for distribution, representing an achievement and major boost for the new product, which contains the established global recommendation for treating diarrhea with ORS and zinc.
A press release announcing the agreement, said, "Affordable, desirable, attractive—these are not words you would usually associate with a kit designed to counter childhood diarrhea in developing countries. Yet that is what U.K. charity ColaLife has done by listening to customers and focusing on packaging—with the help of Amcor Flexibles."
The new Flexi-pack version reduces costs and materials compared to the original Kit Yamoyo, whose AidPod kit included a measuring jug. Measuring is now done with the Flexi-pack.
Simon Berry, Co-Founder of ColaLife, says, "Working closely with our packaging partner Amcor Flexibles, we came up with a way to keep the important functionality and attractiveness of our original trial package while ensuring that the kit comes at a cost that won't require subsidy. Then Amcor offered the first 870,000 Flexi-packs as a donation—a saving we've passed on to our local manufacturer and ultimately the customer."
The Flexi-pack is 'flexible' in other ways too, as Keith Gater of Amcor Flexibles explains. "The Flexipack is see-through, so the printed leaflet inside, which sits squarely against the front of the pack, can be amended to carry any brand or instructions—adapted to local customs, language or regulations. Another benefit is that the filled pack lays flat, improving supply-chain efficiency from packer to wholesaler, and it's easier for retailers to transport by bike."
Copying the techniques of fast-moving consumer goods, like fizzy drinks, ColaLife has so far focused on using the informal, private market, encouraging and training small shopkeepers, miles from towns and health centers, to stock the kit.
Simon explains: "The Zambian Ministry of Health welcomed this model, as it means parents can buy the medicines they need for their children closer to their home. It's been about working with local people to find out what they really want, not what we might think they need. Now, seeing the pack's success, the government is piloting its own version."
The U.K.'s Department for International Development is now co-funding a 2.5-year market development program to establish Kit Yamoyo in the private and public sector in the capital, Lusaka, beginning in October 2015, as well as a sister project in remote rural areas. This will continue the mission to stop young children dying unnecessarily from easy-to-treat illnesses like diarrhea.
Companies in this article