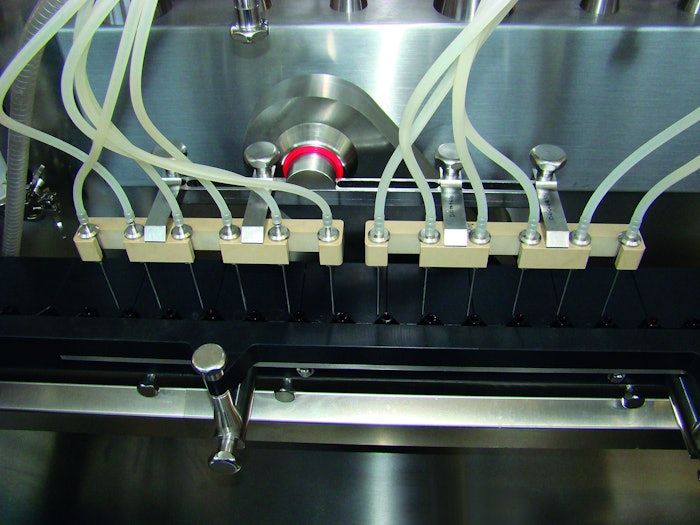 The development and production of sterile injectable medicines are among the core competencies of Indian pharmaceutical manufacturer Zydus Cadila, headquartered in Ahmedabad. Vaccines, gastro-intestinal, and cardiovascular drugs, as well as anti-infectives and therapies for respiratory diseases are central pillars of Zydus Cadila's portfolio.
Following extensive restructuring in the mid-1990s, Zydus Cadila reports sales of more than $1 billion annually and employs about 13,000 staff on four continents. Eight production sites in India, the U.S., Brazil, South Africa, Spain, France, and Japan serve pharmaceutical customers around the globe. Between 2009 and 2010, Zydus Cadila launched 14 new products, including eight generics
At the end of 2011, Zydus Cadila decided to increase its production capacities for pharmaceutical liquids by investing in new equipment from Romaco Macofar. The company's VF 18 aseptic liquid filler was installed at Zydus Cadila's Ahmedabad facility in May 2012, where it has been operating in three shifts ever since, filling sterile injectables into vials.
"We were looking for a high-speed machine at very short notice to fill parenteral products and help us cope with the rapidly expanding demand for our injectable preparations," recalls Gaurang Purohit, General Manager Projects and Engineering, Zydus Cadila. "Romaco was able to deliver promptly, and we're very happy with the quality and value for money offered by the Macofar technology."
The Macofar VF 18 achieves a maximum filling speed of 18,000 vials/hr, or 300/min. The sterile products manufactured by the liquid filler are freeze-dried immediately after filling, which benefits API stability and product shelf life. The lyophilisate is dissolved in sterile water prior to administration and then injected directly into the body.
Filling freeze-dried products is a complex challenge
Pharmaceutical liquids destined for freeze-drying are filled into DIN/ISO-compliant, 4R tubular glass vials in liquid form. Vials with a height of 68 millimetres, for instance, are just 16 millimetres in diameter. In this case, the filling volume is as little as 1.8 millilitres/vial. The reason for this low fill level is the downstream lyophilisation process, during which the product expands.
Filling these tall, slim vials at high speed is technically complex. The vials have to be optimally stabilized for processing on the automatic line. The Macofar VF 18. The Romaco machine provides an infeed screw and starwheel that separate the vials on their way to the dosing and stoppering stations. Using a positive transport system, these instable containers are guided safely to the various stations throughout the aseptic filling process. Several servo systems control the transfer, filling, and stoppering steps, virtually eliminating the risk that the thinwalled glass containers could topple over or break.
Precision processes
The product is via eight rotary piston pumps, with ultra-precise dosage. For the filling volume of 1.8 millilitres, the maximum possible error is no more than ± 0.5%. The vials are sealed with a notched rubber stopper, which is only inserted about halfway to allow for the downstream freeze-drying process. The vials can then be transferred directly to the freeze-dryer.
One Zydus Cadila operator/shift is responsible for overseeing the Macofar VF 18 aseptic liquid filler. The compact machine is installed in a cleanroom with laminar flow air conditioning. With a footprint of 3 sq m, it is compact and inexpensive to maintain.
"The Macofar technology is optimally integrated in our cleanroom environment," says Purohit. "What's more, it's very easy to retool and operate—and in pharmaceutical production, that's a crucial advantage."
Strict safety and hygiene regulations intended to protect both the product and consumers apply when processing sterile parenterals. The concentration of particles and microorganisms has to be kept to an absolute minimum during filling and stoppering. The cGMP-compliant design of the Macofar VF 18 fulfils these requirements in several ways. A selective laminar flow prevents turbulent air movements in the vicinity of the open vials. And the clean design of the machine hinders particle formation in critical zones.
Service and training
Zydus Cadila benefits from reliable service that begins when the machine was installed and commissioned. Special technical training is recommended for all operators, and there is also ocasional maintenance and repair work to be done. Income Marketing Pvt. Ltd. of Mumbai, Romaco's representative in India, and Managing Director Vishesh Parekh maintains visits Zydus Cadila regularly. And a hotline that enables 24/7 communication. A qualified technician is on hand immediately if prompt action is necessary.
"Income's trusty service was a key factor in our decision to award the contract to Romaco-Macofar," says Purohit. "Machine downtime and other disruptions cost a lot of money. Thanks to the successful cooperation with Income and Romaco, however, that's something we never need to worry about." For more than two years now, the Italian-built aseptic liquid filler has been producing parenterals for hospitals and doctor's surgeries in India without a hitch.
Companies in this article