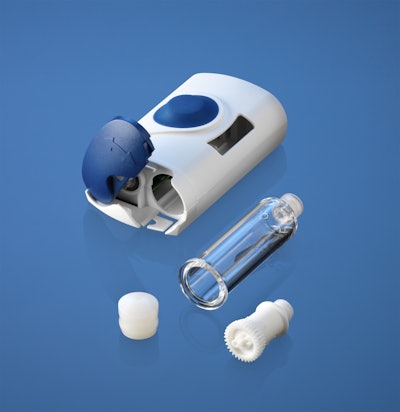 According to a 2011 report on non-communicable disease by the United Nations, chronic conditions such as heart disease, cancer, diabetes, auto-immune, and lung disease are responsible for 63% of all deaths worldwide (36 million out 57 million global deaths).1
In the U.S., the Center for Disease Control and Prevention notes that more than 133 million Americans—or 45% of the population—suffer from at least one chronic condition, while 26% have multiple conditions. In fact, chronic conditions account for nearly 75% of U.S. health care costs.2
Therapies are in place to treat these conditions and, to help control costs, at-home and self-injection delivery methods are on the rise. Thanks to the increase in monoclonal antibody and other biologic drug therapies, many of these conditions can be treated with self-injection therapies that are tailored specifically to the disease.
Home healthcare innovations
Recent and incipient innovations in therapies for cholesterol, asthma, oncology, and other conditions have made in-home treatment possible, helping to remove the high cost and compliance issues associated with clinical therapy. Therapies for conditions including rheumatoid arthritis have evolved to include delivery systems that enable self-injection by the patient or a caregiver in any setting. Syringe-based auto-injectors and cartridge-based pens that facilitate self-injection have been marketed for several years, and the evolution continues through new technologies that enable more patient-friendly administration of life-changing therapies.
For example, Cimzia® (certolizumab injection) from UCB has an OXO Good Grips® wide-grip finger-flange and needle shield removal system designed for those with dexterity issues. In the area of oncology, Roche/Genentech aims to bring Herceptin® (trastuzumab injection) and other drug products to the home market using the Mydose® single-dose infusion device, which allows delivery of high-volume drugs to patients.
Design for adherence and ease of use
The drive for high-quality packaging has helped manufacturers focus on increasing consistency of performance in devices such as auto-injector and patch injection systems. In addition, there is an increased focus on providing drug delivery systems that are easy to use.
To create a specialized, patient-centric system that is truly user-friendly while ensuring consistency, human factors testing and delivery specifications must be employed. A consistent quality of components can help to improve performance and ensure delivery in the home environment, where the success of the system is crucial to patient compliance.
In many current delivery systems, the device is reliant on a purely mechanical power source to inject the drug dosage. Should this mechanism fail to perform properly, the patient may receive an incomplete dose, particularly in systems where there is no way for the patient to manipulate the device. In such cases, the patient may get a sub-therapeutic dose and may not maintain compliance with the prescribed therapy. The failure may also cause a potential recall for the drug manufacturer, which can be costly not only financially, but also in terms of patient preference and brand loyalty.
User-centric systems can help assist with compliance and assure delivery. Such systems would enable the patient to control the rate of the dose, offer options for those with dexterity challenges, and provide an easy-to-use option for home injection. Unlike traditional auto-injectors, which operate using a spring or other activation mechanisms, patient-controlled systems may help to ensure proper administration because the delivery is controlled by the patient.
Take, for example, West's SelfDose® injection system technology platform.* The system design is ergonomic and provided to the pharmaceutical partner to be combined with their specific drug product packaged in a –mL-long prefilled syringe. The system is designed as a two-step operation where the patient removes the cap and presses the system against the skin to deliver a subcutaneous injection. Audible, visual, and tactile end-of-dose indicators, as well as a passive safety system that covers the needle after injection, ease the drug delivery process for patients with dexterity challenges.
Patient-activated and controlled systems like the SelfDose assist with compliance since the systems are not indicative of a syringe injection, which may be less frightening for the patient. Thus compliance may be easier and the therapy more successful for those with needle phobias. In addition, the patient can self-inject, which offers the possibility of alternative dose frequencies to help aid with comfort and preference. In addition, patient-activated and controlled systems do not rely on complicated mechanics such as spring activation, which can help to shorten the work and development time needed to pair the device with a drug.
The rise of biologics
With the rise of biologic therapy, injection systems are now being considered for conditions not normally thought of as injectable therapy, such as cholesterol and asthma. Infrequent injections may be preferred to daily or weekly dosing, so patch-injection systems that can provide a larger dose of longer duration, or patient-activated systems may be of use in increasing compliance by allowing a decrease in the dose frequency. For oncology treatments, which are typically provided in a clinical setting, injections systems that can be controlled over a longer period of time and/or provide larger doses enable home therapy, which in turn reduces cost and may improve compliance.
Electronic versions of these systems, like West's SmartDose electronic patch-injection technology platform* can provide real-time feedback to the user regarding the injection process, guide the user during the preparation, and signal errors in the drug delivery process. In this way, they offer another method by which to potentially prevent delivery failure and compliance issues. User cues and feedback may be especially important for infrequently used therapies, where the time between injections presents particular challenges for training and proper use.
Antibody therapy and biologics will continue to grow at a very rapid pace. As therapies target specialized disease areas rather than a broad range of disease symptoms, at-home delivery of these therapies will become more desirable. Patient-centric systems that use high-quality components to ensure consistent function and that are designed with patients in mind will help to ensure compliance while offering pharmaceutical manufacturers the opportunity to differentiate their products.
--By Bart Burgess, principal, Business Development, West Pharmaceutical Services
References:
1 World Health Organization, "United Nations high-level meeting on noncommunicable disease prevention and control," September 2011, http://www.who.int/nmh/events/un_ncd_summit2011/en/, accessed on October 30, 2012.
2 Centers for Disease Control and Prevention, "Chronic Diseases
The Power to Prevent, The Call to Control: At A Glance 2009," December 17, 2009, http://www.cdc.gov/chronicdisease/resources/publications/aag/chronic.htm, accessed October 30, 2012.
*For investigational use only by [West's] pharmaceutical and biotechnology development partners.
SelfDose® is a registered trademark of West Pharmaceutical Services, Inc. This platform is intended to be used as an integrated system with drug filling and final assembly completed by the pharmaceutical/biotechnology company.
SmartDose® is a registered trademark of Medimop Medical Projects Ltd., a subsidiary of West Pharmaceutical Services, Inc. This platform is intended to be used as an integrated system with drug filling and final assembly completed by the pharmaceutical/biotechnology company.

OXO Good Grips® is a registered trademark of Helen of Troy Ltd.
CIMZIA® is a registered trademark of the UCB Group of Companies.
Mydose® is a trademark owned by Glaxo Group Ltd, the Trademark
Herceptin® is a trademark registered by Genentech, Inc.