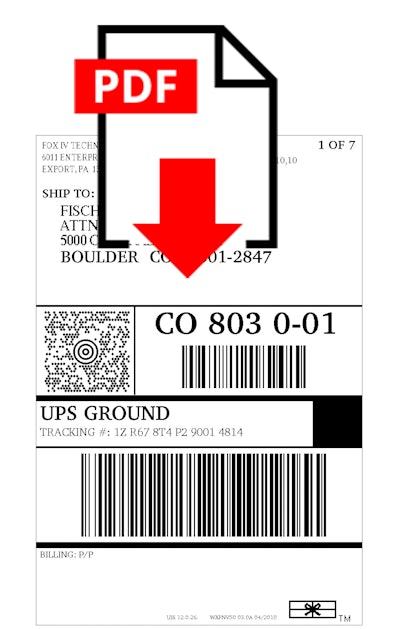 FOX IV Technologies' new 5610 label printer/applicator offers the ability to print and apply of a label format sent directly to it in a PDF format—without the use of middleware.
Previously, in order for a printer/applicator to utilize a PDF, some type of middleware was required to translate the PDF into the printer's native language format. With the 5610 plus it's on-printer PDF app, label designs can be sent directly to the 5610 in PDF format from ERP systems, such as Oracle and SAP, as well as graphics programs, eliminating the middleware and any translation errors that could occur.
The 5610 can be used as part of a pharmaceutical track-and-trace system, in particular with the company's 600 dpi print system. It can print and aplly serialized barcodes, 2D codes, text, graphics, etc.
In addition to eliminating the complexity and extra steps associated with printer drivers and middleware platforms, printing directly to the label printer/applicator has other benefits:
• By using PDF's created by the ERP system, those documents can be archived for later retrieval and reprinting
• PDF's can be created at the intended print size, eliminating the need to scale documents, which can induce barcode scanning issues
Other features of the 5610 include a large, icon-based, 7-in., full-color HMI, two USB host ports, 16-in. OD label roll capacity for high-volume applications, repositionable control box, and optional RFID encoding.
Companies in this article