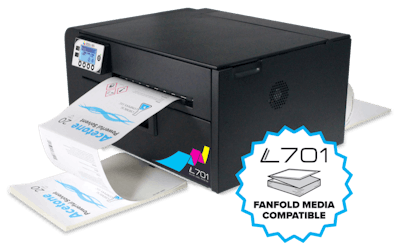 Afinia Label, a manufacturer and distributor of industrial color label printing and finishing equipment, has released the L701 Industrial Color Label Printer.
The newest addition to Afinia Label's family of products, the L701 offers the speed and performance of Memjet in a new, smaller and more affordable configuration geared toward installations requiring multiple printers across several production lines or locations.
This powerful, full-color printer can print directly to inkjet-printable, die-cut labels and tag stock. The L701 supports printing roll-to-roll, roll-to-cut—with the option of printing and presenting the label—and can accept fanfold stock for applications where space is at a premium. The L701's five (CMYKK) 150-mL capacity ink cartridges offer convenience and economy over smaller systems on the market, and can produce labels with photo quality, at print speeds up to 40 ft (~12 meters)/min.
The L701 has a lower price point, making it a more affordable option where multiple printers are required, and is said to offer the smallest footprint available of any production-class color label printer currently available.
The L701 is currently available through Afinia Label's worldwide network of dealers.
Companies in this article