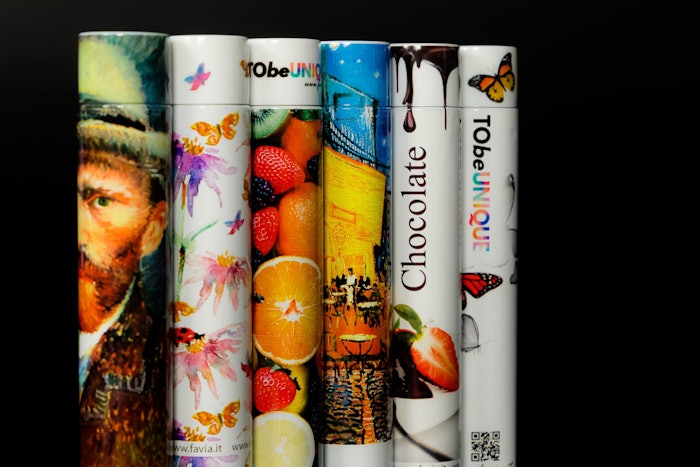 Tubettificio Favia has created a digital printing method that can be used as an effective anti-counterfeit resource: ToBEUnique. In the struggle against counterfeiting, packaging design can play a decisive role. According to the company, packaging is the natural complement of the product: enhances it, simplifies its fruition and communicates its values.
ToBEUnique simultaneously prints both the aluminum tube and the plastic cap. It permits new creative possibilities and enhances the uniqueness of the product, making it easily recognizable. It enhances product value and protects brand identity.
Digital printing on aluminum tubes can also be integrated with traditional offset printing, creating unique and inimitable results: complex graphics, elegant design solutions, shades impossible to get with the only offset process. A customizable design that can also be translated into a useful anti-counterfeit resource.
ToBEUnique was introduce in 2016 and finalized in 2017, and has won two awards:
• In 2016, the "Packaging Oscar " from the Italian Packaging Institute;
• In 2017, the World Packaging Organization's WPO WorldStar Award, in the Health and Beauty category.
Counterfeiting is growing internationally, a reality that concerns all sectors, particularly in the pharmaceutical and cosmetic industries. Counterfeit products cause economic damage to producers, and become a serious risk for consumer health. The struggle against counterfeiting therefore becomes a priority involving all actors interested in the product's value chain. And in this process, packaging plays a decisive role.
The latest report by the Office of the European Union for Intellectual Property, developed by Euipo, the European Union for Intellectual Property, and the Organization for Economic Co-operation and Development, the OECD, says that in 2013, international trade of counterfeit and [illegal] goods accounted for up to 2.5% of world trade for a value of $US461 billion.
In Europe, imports of these goods constituted 5% of all imports, up to $US116 billion (EUR 85 billion).
Counterfeiting affects all industry sectors, from electronics to clothing; with a turnover of $5 billion, with pharmaceuticals ranking fourth, behind electronics; optical, photographs and medical devices; clothing and textiles. The negative impact on the economy is alarming: the missed sales of original drugs cause economic and jobs losses. In the European Union, it caused a drop in sales of about 17 billion Euros, resulting in the loss of about 91,000 jobs lost and 1.7 billion Euros in public revenue.
In the submerged market, the web plays a key role: the sale of drugs and often counterfeit cosmetics is attributable to the Internet. In September, Interpol's Pangea X operation led to the record seizure of 25 million counterfeit medicines and drugs in 123 different countries, sold on the internet, for a value of over 43 million Euros. Pangea X led to the arrest of 400 people and the closure of 3,584 websites, stopping more than 3,000 advertisements promoting the sale of counterfeit medicines.
Companies in this article