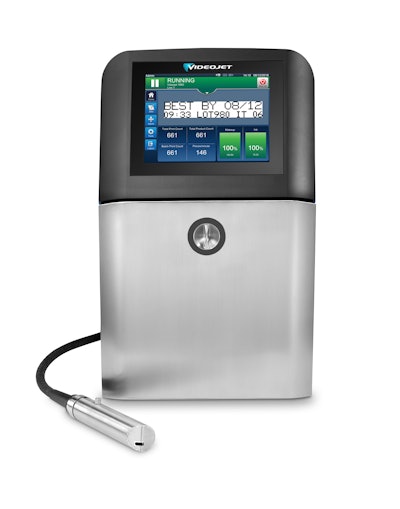 Using predictive capabilities, including an ink build-up sensor, the brand new Videojet 1860 continuous inkjet printer (CIJ) provides up to eight hours of advanced notice of common potential fault conditions that can impact OEE and uptime.
The Videojet 1860 takes full advantage of its built-in predictive capabilities when coupled with the Videojet LifeCycle Advantage™ (LCA) suite of offerings that include remote support, comprehensive analytics, dashboards for fleet monitoring and real-time email/text alerts to provide enhanced uptime, control and visibility to printer operations. The launch of the Videojet 1860 is designed to enhance productivity today and evolve as future production needs change.
With the Videojet 1860, performance without surprises is achieved through advances in continuous inkjet printing technology integrated with new on-board intelligence and communications abilities. The 1860 utilizes over 50 real-time sensors to continuously monitor 150+ key indicators of printer performance, providing diagnostics, analytics and guidance. This suite of predictive capabilities allows for corrective actions prior to many of the most common events that can cause downtime, driving lower costs and higher productivity.
The Videojet 1860's revolutionary printhead design features a predictive ink build-up sensor and provides advanced notice of common potential fault conditions. Alert notifications are displayed on the printer and can be sent to a smart device, allowing for pre-emptive corrective action during line changeover or other planned production stoppages.
In addition, the Videojet 1860's fluid system features a make-up reserve tank that can keep the printer in action for at least eight hours under normal operating conditions, even if a supplies refill alert goes un-actioned.
The 45-degree slanted printhead design delivers increased versatility through easy line integration, with more mounting options providing closer proximity to the product. The printhead can get as close as 2mm to the product, even in gabletop and other angled packaging applications, enabling crisper, higher quality codes.
The 1860 can adapt to a manufacturer's connectivity needs through simple integration with existing factory systems using industry standard protocols such as Ethernet/IP™ and Profinet® as well as high-speed network connections.
The durability, versatility and adaptability of the Videojet 1860 allows it to fit easily on many production lines. Its intelligent airflow system directs clean, cool air to critical components in the printer, extending the stable operating temperature range from 32°F to 122°F (0-50°C).It is available with an optional IP66 rating without the need for plant supplied positive air, eliminating the need to remove the printer from the line during wash-down.
The Videojet 1860 is designed to take full advantage of VideojetConnect™, a remote service offering that can provide operators access to the world's largest service network of coding and marking technical experts at the touch of a finger, and connect the Videojet technician directly to the line for immediate advice and remote problem solving. This allows for real-time corrective action to help deliver increased uptime, and minimizes reliance on in-house maintenance teams.
The predictive capabilities of the 1860, along with the unique nozzle system, provide a CIJ printer that redefines uptime with enhanced print quality and line speed capabilities. The ability of VideojetConnect™ Remote Service to help reduce downtime and allow manufacturers to focus on their core production activities can drive significant productivity gains.
The company explains that a building materials manufacturer utilized VideojetConnect™ Remote Service to improve maintenance and cleaning procedures, resulting in a reduction in unplanned downtime by over 80% in their coding operation; while a large brewer stated they could get back to the business of brewing rather than maintaining printers due to the Videojet LifeCycle Advantage™ offerings.
Designed with a minimal touch philosophy to help keep operators focused on production and minimize operator interactions, the Videojet 1860 also helps eliminate potential user errors through the advanced Code Assurance capability embedded in the new Videojet SIMPLICiTY™ interface. The customizable tablet-like interface with a simple menu structure and intuitive navigation helps make 1860 operation easy to understand for users across skill levels.
Together with fully automated rule-based intelligent message creation, the SIMPLICiTY™ interface reduces the opportunity for mistakes that could impact the production line. The 1860 also features built-in wizards and embedded video instructions designed to help minimize operator errors.
Videojet also applied this minimal touch philosophy to routine maintenance tasks, allowing them to be performed without interrupting production schedules. The new SmartCellTMservice module simplifies routine maintenance with three color-coded, easy-to-replace components that can be changed in minutes, allowing operators to focus on production rather than maintenance.
As manufacturing, production and coding needs continue to evolve, the Videojet 1860 has been engineered as an extendable platform to assist with both present and future printing needs and production processes. Unique software enhancements and VideojetConnect™ Remote Service Workflow Modules can be added after purchase to help keep the printer aligned with evolving production needs.
Companies in this article