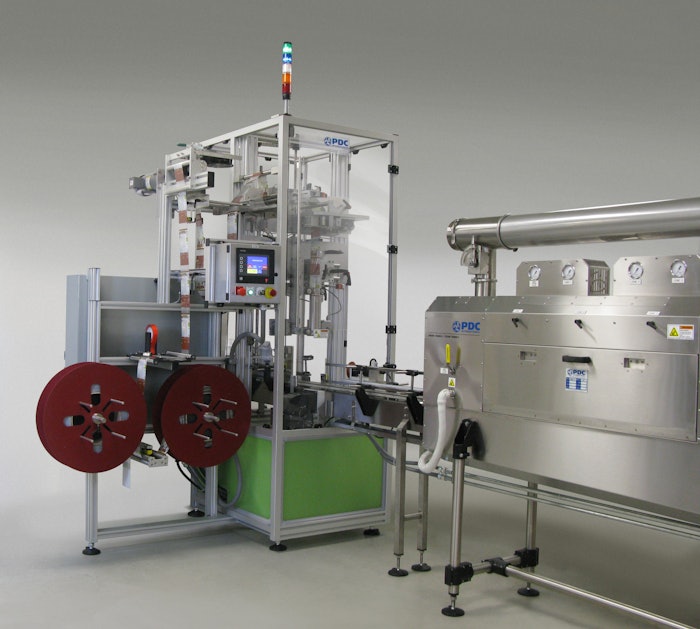 PDC International Corp. introduces its Model R-100 evolution shrink labeler, an economical and compact system designed for continuous shrink labeling and twin packing. The R-100 is a line extension of PDC's R Series of shrink-sleeve labelers.
The R-100 has the technological advantage of PDC's blade assembly. This proprietary assembly was developed as a longer-lived alternative to the fragile "spinning knives" that are used in most sleeving systems. PDC's blade assembly has been tested and proven in dozens of applications and on virtually every commercial packaging film, according to the vendor.
The R-100 applies full-sleeve shrink labels and tamper-evident sleeves at speeds of 30 to 100 cpm. The system is also capable of twin packing similar containers for club stores or value packs. Containers can be filled or empty, and virtually any size or shape. PVC, PETG, OPS, and PLA labels in gauges as thin as 30‒40 microns are all compatible. The R-100 maintains precise graphic orientation for all package shapes.
The R-100 Evolution is a robust, reliable system. Its compact size makes it a practical, economical addition to a production line. Mandrels, feedscrews, and other change parts can all be switched out quickly, thanks to PDC's tool-less changeover feature. Optional features include a welded stainless-steel frame and complete stainless-steel construction.
The R-100 is controlled with an Allen-Bradley MicroLogix 1400 PLC with Ethernet, Red Lion Touchscreen HMI, and stepper motors. Systems can be built with optional modules for vertical and horizontal perforations (important for consumer tamper evidence) and date coding. The standard sensor and verification package (which includes material-out and film feed jam sensors and upstream photoeye) can be enhanced to identify jams downstream, fallen bottles, low air pressure, and other anomalies, and provide detailed machine status indication.
A second unwind reel and an articulating splice table for precise roll splicing are two available options for continuous production facilities. Conveyors, inspection systems, and shrink tunnels (dry heat or steam) can be supplied as part of an R-100 system.
Companies in this article