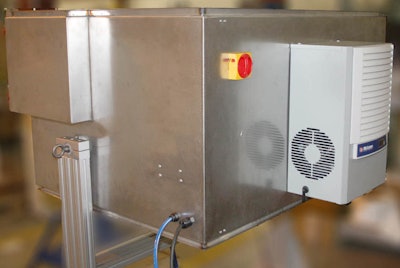 The Extreme Enclosure from Fox IV Technologies, Inc. is made from durable stainless steel and incorporates a heating/air conditioning unit to regulate the internal temperature of the enclosure, ensuring proper operating conditions for the labels and label printer/applicator.
It is designed for operating environments with ambient temperatures ranging from -10° F to 110° F. The enclosure features tightly sealed dual access panels for supply changes and maintenance as well as a self-closing applicator door that closes on a timed basis to reduce the amount of contaminants entering the enclosure. The applicator door has an audible alarm to warn operators that the door is closing. Additionally, the enclosure is positively pressured to further reduce contaminant infiltration.

Environmental enclosures are available for any of FOX IV's more than 25 models of label printer/applicators. Optional warning/fault beacons, safety switches and mats, software interfacing and custom integration services are also available in addition to environmental enclosures.


Companies in this article