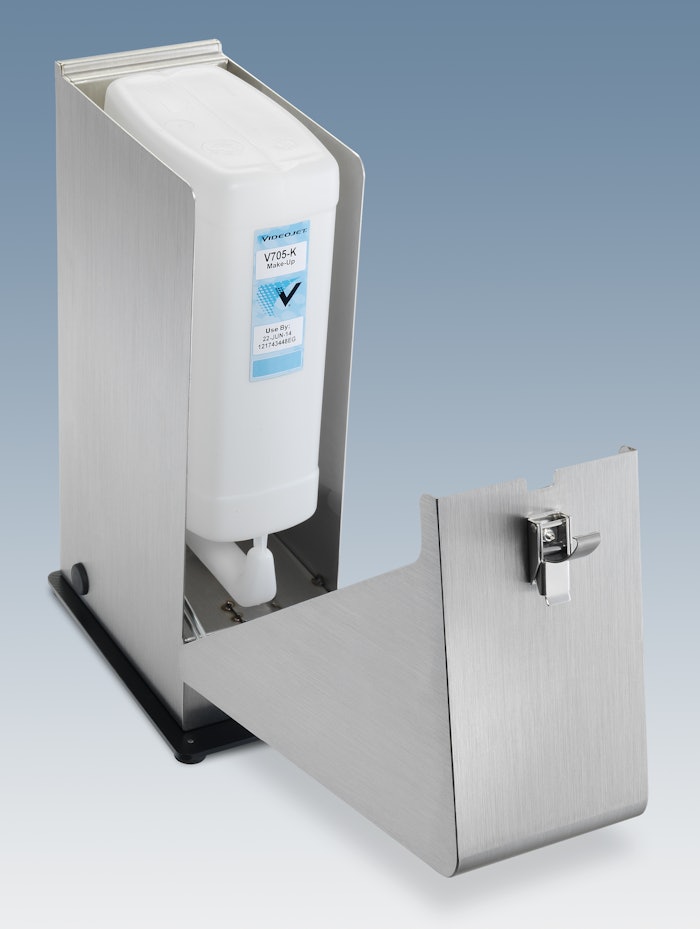 Videojet Technologies Inc., a manufacturer of coding, printing, and laser marking products, fluids and accessories for the product identification industry, announced a 5-L Bulk Fluid System (BFS) for its 1000 Line continuous ink-jet printers. The BFS benefits customers running high-volume print applications such as bottle and can, as well as wire, cable, and pipe production lines.

With fewer cartridges to change, customers can enjoy longer run times and less intervention with their Videojet continuous ink-jet printers.
The Videojet BFS accessory is a large capacity bulk fluid container for ink or make up that integrates into many continuous ink-jet printers including: 1610, 1620, 1610DH, 1520 and 1710 (make-up only).
The new BFS is available as an upgrade to existing equipment or as a standard option for new continuous ink jet printers.  Mounted anywhere within one meter from the ink-jet printer, the BFS features a needle and septum design which keeps fluid replenishment clean and simple.
The Smart CartridgeTM design makes the system foolproof.  Once inserted, the printer reads an embedded microchip on the bulk container to verify it is the proper fluid type and has not passed its expiration date. Production line operators can enjoy the benefits of a bulk system without the risks of contamination or mismatching fluids.
Companies in this article