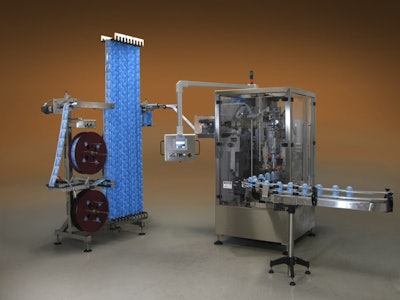 PDC International Corp.'s robust, single-head shrink labeler is designed for maximum efficiency and productivity. The PDC R-500 TS-CB Shrinklabeler applies shrink sleeves at speeds between 500 and 600 labels/min on a single inline head.
The PDC R-500 TS-CB Shrinklabeler incorporates continuous "steady state" movement of sleeving materials during the cutting and application process, using the lowest web speed possible and eliminating indexing of the web found in other systems. Since all motions are continuous, internal machine and dynamic forces are minimized, resulting in a very stable yet high-speed system.
The R-500 TS-CB is a mandrel-style labeler that uses PDC's proprietary blade assembly, designed as a longer-lived alternative to "spinning knives." Mandrels, feedscrews, and other "change" parts can all be switched out quickly with a "tool-less" changeover feature and menu-driven parameters.
The proprietary product handling system of the PDC R-500 TS-CB provides accuracy of bottle positioning. Shrinklabeler is engineered for 24/7 operation, and uses standard, widely available components, and is suited for manufacturers and contract packers requiring speed, flexibility, and reliability in a single "workhorse" system.
The PDC R-500 TS-CB Shrinklabeler is available in standard or customized configurations, including optional solid stainless-steel construction for washdown environments. PDC also offers peripheral systems such as blow-off systems, bar-code inspection systems, coders, and conveyors.
Companies in this article