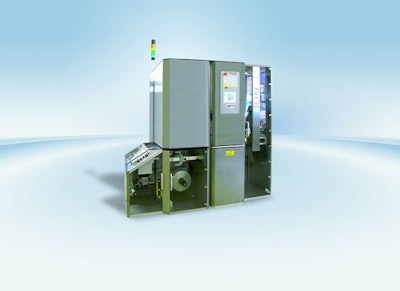 The modular digital printing system Heidelberg Linoprint L is designed for reliable, precise label printing.

Also at Achema 2012, the KOCH Pac-Systeme (part of the Uhlmann Group) displayed integration systems from the Linoprint i range.

Linoprint D digital printing system (formerly DTS12oo) prints logos, decorative elements, expiry dates, batch numbers, production data, and complete text. In addition, tablet blister packs can be labeled individually with data-matrix codes. With its digital electrophotography process and a print width of between 50 and 320 mm (1.97 in and 12.60 in), the system is suited for pharmaceutical and medical technology applications.

With a resolution of 1,200 x 1,200 dpi, the Linoprint D offers piracy protection and track and trace. Digital full-area printing and coding with dynamic data can be used in tandem at all times, so it is no longer necessary to mix different technologies. Micro lettering on the blister pack ensures each item of packaging has a clear mark that cannot be copied, thereby offering added protection against product piracy. In addition, the special toners developed in-house with highly functional additives provide even more protection against counterfeiting. These can only be used in combination with this printing system.

Heidelberg offers the modular digital printing system Linoprint L (formerly iTS6oo) for full-color digital label printing. Linoprint L is an ink-jet drop-on-demand system for the economical printing of complex short to medium-sized label and film runs and applications with variable content. The compact and encapsulated system meets strict requirements and fulfills quality assurance guidelines for pharmaceutical production processes and environments. This gives users the ability to provide smart labels, security printing, and traceable labels.
Companies in this article