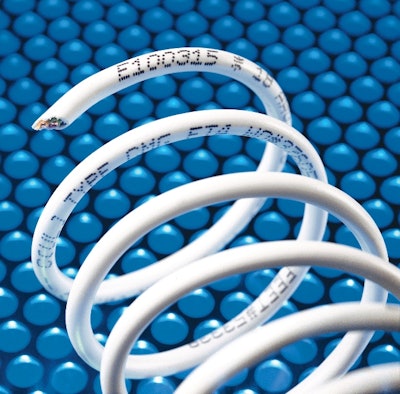 Designed to provide exceptional transfer resistance and adhesion, improved uptime, and high contrast codes to help optimize packaging operations.

This heat-curable, high performance black ink is specifically designed to enable printing onto industrial parts and components that require solvent-resistant codes and/or exceptional code durability. Beyond providing outstanding adhesion and uptime, the ink provides customers with superior solvent resistance.

Beverage glass bottlers can take advantage of this top performing black ink that not only improves ink code adhesion when printed onto cold-filled, returnable glass bottles, but also can be removed easily during a standard caustic wash process employing commonly used wash additives such as a surfactant or a detergent when bottles are returned for refilling. The practice of returnable bottles allows bottlers to establish or increase their sustainability efforts - minimizing waste and increasing recycling.

The V413-D black ink helps keep pace by providing the best overall ink adhesion to assure product traceability. And with easy-to-read "best-by" codes, distribution partners are able to efficiently rotate stock at different points throughout their supply chains. This helps reduce waste from out-of-date product and ensures the freshest product is stocked on store shelves.
Companies in this article