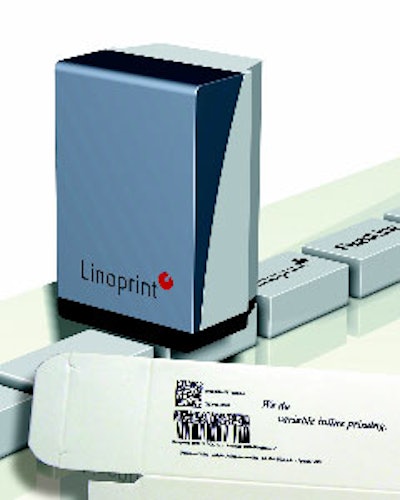 Griffin-Rutgers Company, Inc., the exclusive North American representative for Heidelberg's Linoprint Digital Printing Systems, introduces the Linoprint FixedLine, a digital UV ink printing system employing Piezo-based, drop-on-demand ink jet technology. FixedLine provides high-resolution, real-time-variable in-line printing, coding and decorating of folding cartons, labels, web stocks and blister packs—without downtime—in widths up to 70, 140 or 210 mm, and at speeds up to 25 m/min.

Linoprint FixedLine's variable print information can be changed instantly during print runs, providing complete traceability via unique, high-quality imprints on every product or package. The print heads perform equally well on vertical, horizontal or inclined surfaces, enabling erect and filled packages, molded parts and flat stocks (cartons or webs) to be printed as easily and well as flat surfaces. A compact unit regardless of printing width, FixedLine easily installs into any production line, integrating exactly where it is used best, and works cleanly and reliably on most substrates, including paper, chipboard and aluminum or plastics. Standard print resolution is 360 dpi (with an optional 720 dpi), but different sizes of printing dots generate up to eight grayscale levels which, to the human eye, achieve a perceived resolution of more than 1080 dpi.

FixedLine prints with any single color, and as Heidelberg's Saphira inks are optimally adjusted to substrate tonality, elasticity, abrasion resistance and related criteria, the printed images are always clean and accurate, even on pre-printed, sealed or coated surfaces. The ink supply container can be exchanged during print runs without downtime, and the UV-LED dryer cures ink instantly without producing heat, thereby limiting the possibility of deforming or damaging materials. FixedLine has no moving parts, is controlled and monitored via touch screen, and can also be connected to ERP and MIS systems.
Companies in this article