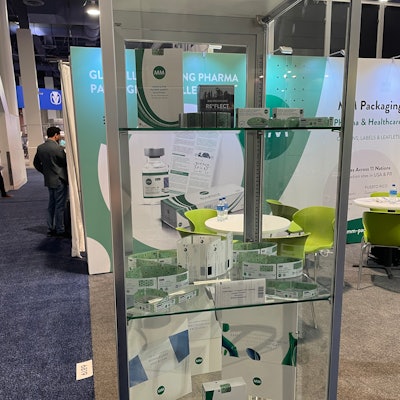 Patient safety stands at the forefront of the pharmaceutical industry's priorities. In the United States, legislative initiatives like the Drug Supply Chain Security Act (DSCSA) have been enacted to bolster supply chain security, emphasizing the need for innovative solutions to combat counterfeit pharmaceutical products.
At PACK EXPO Las Vegas 2023, MM Packaging, a member of MM Group, showcased its latest technology. MM Packaging provides pharmaceutical companies with packaging for a variety of drug types. The company has partnered with Crane Authentication, through its pharma and healthcare business unit, to utilize Crane's patented micro-optic technology in anti-counterfeit labeling.
Crane's micro-optic technology has been supplying security features to the banknote industry for more than 200 years and is utilized in the US $100 bill. The key feature that sets the technology apart is its depth of field that resembles a hologram, only it provides an added layer of security through its origination process. The micro-optic technology combines patented intellectual property with trade secrets, ensuring the utmost protection against counterfeiting attempts.
MM packaging provides instructions designed with ease of comprehension in mind to empower patients and consumers to differentiate between genuine and counterfeit products. Crane's micro-optic features can be easily identified in low lighting, according to the company. Mobile phone authentication is available to provide instruction and QR codes can confirm code authenticity as well. This educational approach can be integrated into supply chains, further enhancing patient safety.
"Part of anti-counterfeiting is helping those who are going to be using the product be able to identify a genuine versus a fake. We can also pair it with overt security features that would require extra hardware or extra tools to detect," says Tiffany Overstreet, innovation director for MM Packaging's pharma and healthcare business unit.
In addition to this educational tool, MM Packaging has made arrangements with Crane Automation to ensure that customers can source the technology through its competitors, in spite of having an exclusive license in order to ensure supply chain security.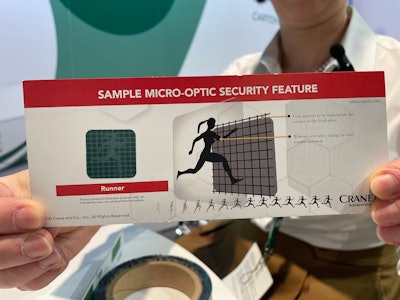 Tamper evidence and anti-harvesting
The micro-optic labels can be formatted to fit different packaging applications, such as small formats on vials and auto-injectors, as well as larger formats on cartons. The technology can be easily over-printed to include text, 2D matrix codes, and more alongside security features.
Crane's technology also allows for flexibility in label application beyond anti-counterfeit. Tamper-evident labels use a special adhesive designed to rip the carton, providing clear and visible signs of tampering.
The security label specifically combats anti-harvesting, attempting to remove this label by any means, including steaming, results in its destruction, preventing counterfeiters from reusing it on another product.
MM Packaging also works with its customers to develop further applications based on customer need. While their primary focus is anti-counterfeiting, Crane's micro-optics technology offers the flexibility of customization in tamper evidence labels to match a brand's colors, logo, or an image or wording representative of the product. This ability may have the potential to engage consumers through the "wow factor".
"The labels could play a very important part in terms of patient engagement by bringing patients in to find out more information about their pharmaceutical products," says Overstreet.
Companies in this article