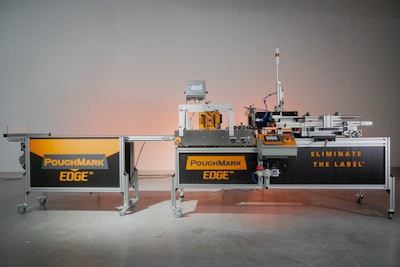 PouchMark featured its "revolutionary" line of feeding and direct-to-pouch variable printing and coding systems, which integrate the speed and print quality of thermal-transfer printers made by parent company FlexPackPRO with PouchMark's affordable and reliable feeders and conveyors. What these systems allow brand owners to do is stack, feed, and print variable information directly onto pre-made pouches instead of having to print and then apply labels. "It's a great way," says PouchMark EVP/GM Bruce Walter, "to eliminate an extremely time-consuming, costly, and irritating part the process." Medical diagnostics kits and medical device products have been popular applications, Bruce adds, though lately the cannabis space is showing a very keen interest.
Making its PACK EXPO debut at the booth was Edge, the newest addition to the PouchMark family of machines. A high-volume pouch feeding and printing innovation, it has a loading capacity of up to 250 pouches at a time.
Also making its debut at the booth was FLEXtij, a groundbreaking inkjet technology where the speeds and the ink durability in terms of what it can adhere to and how fast it can adhere to it is all very new. The Premium version offers speeds to 200 fpm and 600 dpi resolution. But the FLEXtij Ultra--which FlexPackPRO claims will outperform CIJ, laser, TTO, and other thermal ink-jet options in most applications--offers print speeds to 656 fpm and print density up to 1,200 dpi. A key to this new breed of inkjet technology is the polymer-based inks that deliver durable print on porous or non porous surfaces. "It's not like traditional TIJ where you can usually scratch off the printed image with your fingernail," says Walter. "It's like nothing else out there." The proprietary inks are made by off-shore suppliers to specifications set by FlexPackPRO.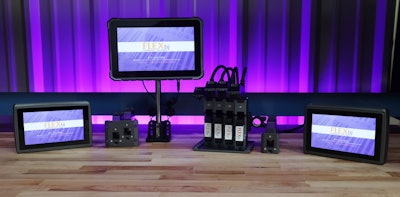 Once again a key market for this new technology was cannabis. Not only do the pouches in this space have gussets and zipper reclosure features that make ink laydown challenging, they also have special double child-resistant zippers that further complicate things. FLEXtij can handle it, says Walter, who is clearly excited about the opportunities this opens up. "FlexPack PRO's whole existence as a company has been based around TTO printing, because the quality is so good," he says. "But as we got deeper into this and saw what we could do if we could print over gussets and zippers and not be so dependent on print surface consistency, it would be a game changer."
Companies in this article