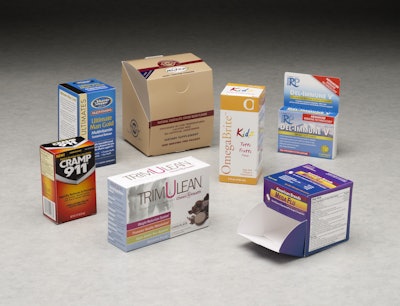 Keystone Folding Box Co., a designer and cGMP manufacturer of paperboard packaging for the healthcare market, has added digital printing capabilities by installing a premium, multifunction, four-color color process system: the Ricoh Pro C7100X Series.
The new digital press meets increasing demand, particularly in the pharmaceutical sector, for cost-effective, short-run package manufacturing. With the addition of the new technology, Keystone can rapidly manufacture anywhere from a single carton to 18,000 cartons, depending on a customer's specific needs.
Compared with a conventional offset press, digital printing also has significantly decreased setup times. It ideal for the variable data printing jobs (VDPs) that have become more prevalent in the life science industry with the upcoming requirement for serialization.
At Keystone's Newark production facility, the Ricoh Pro C7100X Series features four-color process printing on either matte or gloss coated substrates, and is calibrated to match Keystone's offset presses. Capable of creating images with up to 1200x4800 DPI resolution with two-sided print registration, the module prints on a variety of media, including 10-pt to 18-pt SBS (solid bleached sulfate), a standard material in carton manufacturing.
"This new digital press gives Keystone expanded capabilities for rapid job changeover, maximum quality reproduction and data variability, even with small batches of pharmaceutical cartons," explains Ward Smith, Keystone's Director of Marketing & Business Development. "Incorporating digital printing into our production capabilities makes us a more nimble carton manufacturer in a sector where high value is placed on flexibility and adaptability."
Keystone Folding Box Co. is known in the healthcare packaging market as a manufacturer of folding cartons, as well as its Key-Pak and Ecoslide-RX compliance packaging. Both are child-resistant (F=1), senior-friendly compliance pack designs and are made from recyclable material. Recently, the company introduced Ecoslide-RX 3.0, its third iteration of Ecoslide-RX.
Companies in this article