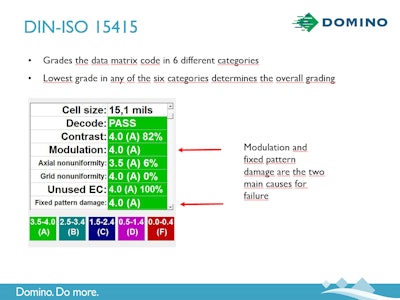 Serialization has created some strange new partners for pharmaceutical companies. Not the least of which is the new relationship between a pharmaceutical customer and their marking and coding provider. The type of information being printed and the burden on that information being printed correctly and legibly has made the printer on the production line a potential bottleneck if problems are present.
Domino has identified three hidden challenges of serialization that go beyond the printing equipment:
Decoding and verifying
Substrate material
Product handling
This three-part series of articles will delve into each of those items in depth to provide information to determine if your production line is ready for serialized printing—or if one of these topics is going to stop you from putting product out the door.
In the DQSA world, printers are being asked to do more. Be it a laser, a thermal-transfer ribbon printer, or a thermal inkjet printer, more data needs to be put down, and that data needs to be embedded into a readable and gradable 2D Datamatrix barcode. For DSCSA purposes—that is typically being printed onto a folded box or onto a label for syringes, vials, or bottles.
But what does that mean—reading vs grading?
Reading a barcode is what happens in your grocery store every day, or with your smartphone, or when picking up prescriptions at a pharmacy. Reading is verifying presence and that your reader can identify what is printed. Why not stop there? If the barcode can be read, should that be enough?
According to the FDA, guidelines for DSCSA state, "Verification of the product identifier may occur by using human-readable or machine-readable methods." The EU, however, insists on a grade of C for the Falsified Medicines Directive. That's achievable, too. However, our research tells us that three of the largest global pharmaceutical wholesalers prefer a grade of "B."
Reading isn't enough, however. You need to talk about verifying—and not just verifying, but high-grade verifying. That also means scanners need to be replaced with cameras, and those cameras should operate at high speeds to read and verify codes at a rapid rate.
A GS1-printed 2D Datamatrix with Din-ISO15415 standards grades in six categories; Contrast, Modulation, Axial Non-Uniformity, Grid Non-Uniformity, Unused EC, and Fixed Pattern Damage. Each of those categories gets a specific grade from 0-4 and that numeric grade has a corresponding letter grade (A-F). The lowest grade of the six becomes the overall grade for the barcode. And that barcode had better be a B—or close to it!
At this point the discussion typically goes to, "Well my printer can handle that!" And maybe the printer can, but there are hidden challenges in decoding and verifying.
A thermal inkjet printer could print a perfect black serialized code on a dark blue label… and the vision system would give a low grade every time. There would be no contrast, which is one of the grading parameters.
A beautiful laser code on a red background creating white characters would pass through with no issues… the code is perfect. Except that cameras read in grayscale, and that box wouldn't be able to be graded. In fact, the camera wouldn't see anything at all.
What about the customer that swears the line speed doesn't vary, that it is consistent, and no encoder is needed—they've never needed one in the past. One of the important parameters is Axial non-uniformity. That means any deviation in line speed could be picked up in the barcode on the main axis. That means the barcode becomes a C or a D and that means three of the largest global pharmaceutical wholesalers won't accept that product.
What if someone on third shift likes the printhead of a thermal inkjet printer oriented a certain way? That can cause grid non-uniformity, and that is another of the six categories that will cause product to get rejected.
The graphics within this story show examples of all the things that can cause bad grades on products.
The good news is some of them don't require new printing equipment to resolve. They require an understanding of how that equipment works in relation to the substrate, to the host material, and to the vision systems. The easy thing to do is blame the printer. The correct thing to do is determine if those items—vision, material handling, printer, and substrate—are working together to get you a verified, decodable, and ultimately acceptable code for your product.
Paul Hammond is the Pharmaceutical Sector Development Manager Pharmaceutical for Domino. More information is available by e-mail at solutions@domino-na.com, or by phone at 800-444-4512.
Companies in this article