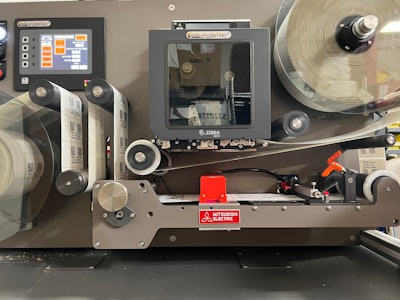 This content was written and submitted by the supplier. It has only been modified to comply with this publication's space and style.
The Sobel Imaging Systems complete label inspection solution features easy-to-use software for setting up desired label inspections, image acquisition, a controller, and operator interface terminal—all in a compact design.
"We have developed and deployed many machine vision-based label inspection systems for the medical device industry, where regulatory compliance regarding packaging/labeling is a high priority," says Sobel Imaging Systems founder and CEO Greg Wolfe. "However, when inspecting labels at the end-feed of the printer, traditional vision systems are bulky and often require major packaging line or workflow modifications. Our solution uses a new contact image sensor (CIS) from Mitsubishi Electric that is compact enough to be integrated directly into the printer."
The CIS has lens, light, and image acquisition all integrated into a single small head. Because it operates at a short working distance, the inspection solution is more easily implemented into existing labeling equipment/printers.
As Wolfe explained at MD&M West, the technology employs innovative optical character recognition software. "In the past, traditional machine vision software had a hard time reading characters that were touching or highly variable characters, whereas the new deep learning concepts based on neural network technologies are much more robust at reading print like humans read it."
"The result is lower cost overall and significant space savings," says Wolfe. "The single row of pixels extending the full width of the label, combined with the integrated lighting and lens, generates a very uniform and consistent image across the entire length of the label. For larger size and/or high-gloss labels, this is a significant advantage over traditional area-based machine vision cameras."
Expected to be available in late spring of 2023, the Sobel label inspection software solution has an easy-to-use interface. To set it up, the user opens a PDF file of the label to be inspected and draws regions of interest around the text and 1D/2D codes to be read and verified. Most of the readable text match strings are contained in the 1D/2D codes, allowing for easy verification of the targeted human readable text. The software is well-suited for customers who have a master format label from which they create subvariants.
The inspection and operator interface software runs on a multicore PC. The PC, microcontroller, and Ethernet switch are embedded into a single compact package. Furthermore, the software is capable of interfacing to a user's enterprise database/ERP software in real time for a complete closed-loop inspection process.
Companies in this article