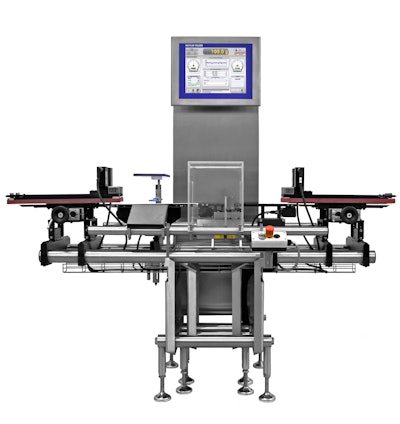 The new METTLER TOLEDO C35 VC Checkweighing System is designed to accurately weigh vials, small bottles and aerosols at throughputs of up to 300 parts/min, in a range of from 3 g to 200 g at accuracies to within 4 mg. It can weigh containers measuring up to 100 mm in diameter.
The system is able to handle and weigh a wide variety of containers within these weight and size ranges with no required change of parts.
The C35 VC is a checkweighing system suited for accurate handling and weighing of challenging small vials and bottles of pharmaceutical products that require 100% reliable weight control. It utilizes a positively-driven side transport mechanism to move containers smoothly on and off the weigh cell conveyor, eliminating trip points and enabling slim packaging as small as 14 mm in diameter to be accurately weighed.
The C35 VC features electro-magnetic force restoration (EMFR) technology. EMFR load cells are capable of small and precise measurements, incorporating software tools that are capable of "learning" and thereby neutralizing interference from the checkweigher itself and surrounding equipment. They are also equipped with high-precision temperature sensors and temperature compensation software that together eliminate potentially detrimental effects caused by temperature changes.
A range of optional conveyors and handling features is available, including guiderails to ensure smooth product handling of critical packaging and diverter arms to safely reject delicate glass packages.
The C35 VC system is operated from a 15-inch multilingual touchscreen HMI positioned in front of the conveyor for accessibility and operator safety.
It enables companies to inspect 100% of their product, segregate non-conforming packages and collect production data using one of two optional Weight Data Interfaces.
METTLER TOLEDO's communication offerings include Ethernet/IP PROFINET, PROFIBUS DP OPC DA/UA, along with TCP/IP, and various serial communications solutions. Fieldbus and OPC solutions have Pack ML (ISA TR88.00.02) as a fundamental part of their base-architecture, making control integration much simpler and faster.
Companies in this article