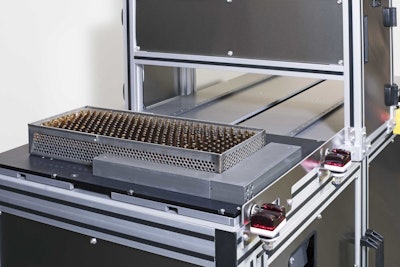 Acquire Automation's new CountQ vision inspection system also records the results of its inspections, producing data that supports accurate ongoing and year-end production records and inventories.
The pharmaceutical industry has increased production line speeds in recent years by developing systems that automatically fill the trays carrying vials, cartridges, ampules, syringes, droppers, and other smaller containers through production. However, manual inspection of those trays to ensure they document the tray count, and counting containers to reconcile product counts, has often diminished or even eliminated that productivity advantage, while often producing inaccurate results.
Using machine vision cameras and software, the CountQ system instantly and accurately counts and verifies the contents of each tray, and the software then records and stores the results to maintain precise and up-to-date production records. The CountQ system is adaptable to the physical requirements of each manufacturer's tray sizes and production line speed, giving it universal application.
Standard features of the CountQ system include an easy-to-use HMI interface, report and audit logs, security levels that control access, two-touch changeover, and configurable run modes that increase the system's flexibility. It also incorporates advanced product counting tools that enable it to adapt to targets with varying visual characteristics.
CountQ also offers various options, including an adaptive learning function that enables it to count highly-reflective glass containers such as ampules, an MES Ethernet interface, wireless communication capability, as well as a data entry scanner and Ethernet data module. An image storage option can expand storage capability to meet more extensive needs.
Companies in this article