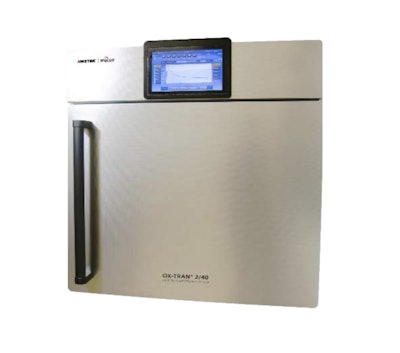 AMETEK MOCON introduces OX-TRAN 2/40, engineered to accurately and quickly measure the oxygen transmission rate (OTR) for a wide range of high-barrier materials and packages, including thermoformed trays, bottles, flexible pouches, corks, caps, and more. It is suitable for food, beverage and healthcare packaging applications in which measuring the precise oxygen ingress through a package is critical to a product's shelf life.
Historically, testing the oxygen permeation of whole packages either suffered from poor control of the test gas conditions, since the package was tested in room air, or required set up of an independent environmental chamber that was often difficult to use. Adding to the complexity of legacy package permeation testing, package samples needed to be epoxy adhered and heat removed from reusable plates.
OX-TRAN 2/40 allows OTR testing of whole packages at controlled humidity and temperature conditions, with easy sample changes. The chamber is large enough to accommodate and simultaneously test four large packages, each approximately the size of a two-liter soda bottle.
The analyzer uses a next generation software platform with automated controls and simple touchscreen display. The OX-TRAN 2/40 utilizes MOCON's industry-standard coulometric sensor, so no calibration is required, and the system complies with ASTM F1307 for OTR measurements.
*The OX-TRAN 2/40 will be on-site at PACK EXPO International at the AMETEK MOCON booth (S-1454).*
Companies in this article