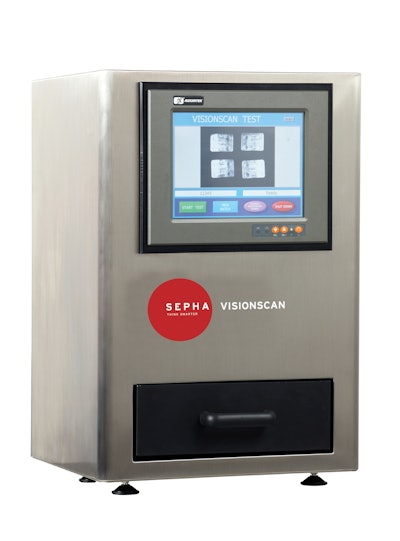 Service Industries and Sepha announced the publication of a new white paper on Sepha's non-destructive leak tester, VisionScan, by leading packaging expert Dr. Dorian Dixon, at the University of Ulster, Northern Ireland. The white paper can be downloaded from Service Industries' Web site.
In contrast to traditional destructive, manual tests such as blue-dye, the VisionScan system uses state-of-the-art camera and projection technology, combined with vacuum pressure, allowing for the accurate non-destructive detection of defects down to 15μm.
In this white paper, four blister pack types of various designs and materials were evaluated. Laser-drilled holes of 15μm or 50μm were drilled into the foil or paper laminate of 25 of each of the four pack types, creating a total of 200 initial test packs. Only one pocket per pack was laser-drilled, leaving the remaining pockets undamaged as control pockets. Scanning Electron Microscopy (SEM) was used to confirm the dimensions of the laser-drilled holes.
On SEM inspection of the initial 200 test packs, it was shown in a number of blister packs that the laser-drilled holes were not drilled correctly or were missing. Data from the pockets identified as having defective holes was not included in subsequent analysis, resulting in a total of 170 test packs for final analysis. Once all such incorrectly drilled pockets were removed from the data, the study showed that VisionScan from Sepha correctly identified 100% of both the 15μm and 50μm-sized defects in a total of 170 test packs across all four of the blister pack types.
Companies in this article