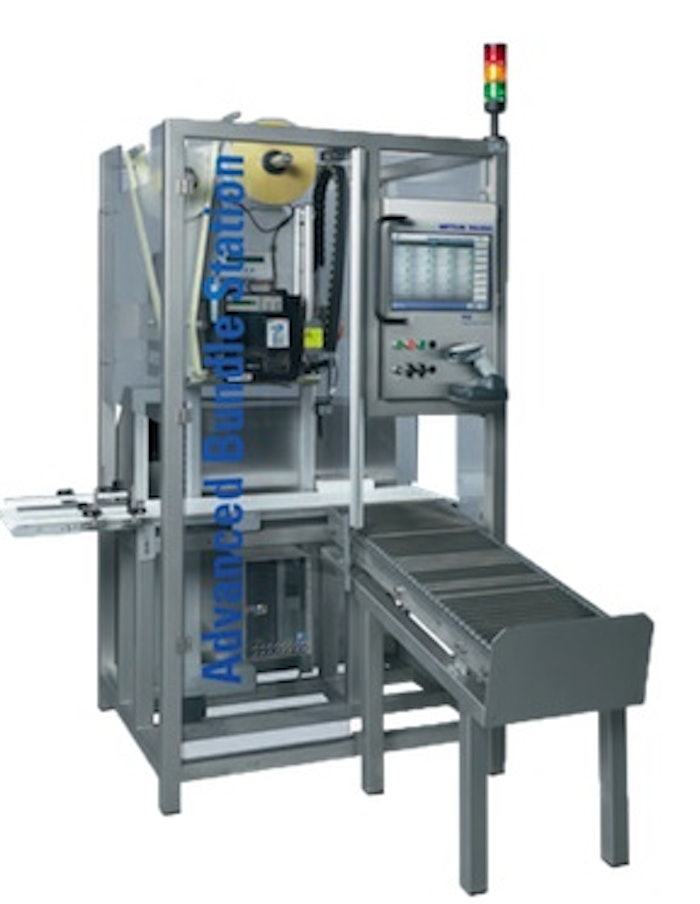 The Mettler Toledo PCE Advanced Bundle Station (ABS) is a module for the aggregation of bundles within the track-and-trace process. A high-resolution camera reads the 2D codes of all cartons in a complete bundle––even through foil where present. Codes are then verified, and the allocation of each carton to the bundle is recorded and registered in an internal database. The bundle is marked with a unique serial number, either by direct print on the bundle or through the application of a printed label by an independent packaging unit.
ABS provides intuitive touchscreen operation via a central user terminal using an automatic learning function to format settings. Status display and error messages are shown on the user interface. A complete log of all user interactions is available with filter functions for evaluation. The log contains quantitative evaluation (counters for good and bad products) of the process as well as the option of an electronically stored record of the verified bundle.
The ABS system complies with 21 CFR Part 11. The Pilot Line Manager (PLM) managing the line is automatically supplied with order data and serial numbers. Integration with higher-level ERP systems (e.g., SAP R3 and SAP Auto-ID) is possible where an existing connection to the PCE Pilot Site Manager (PSM) that manages the facility is in place.
The ABS system features throughput of up to 30 bundles/min (dependent on format), multi-code reading, (e.g., 2D codes, on stretch-banded, shrink-wrapped or fully overwrapped bundles, as well as verification of the completeness of a bundle (including over- or under-fill).
The system allows reading of all visible carton codes on the side flap of the bundle and data transfer to PLM or reconciliation with an internal database. It also can provide control of unique serial labeling of the bundle directly on the bundle via various print systems (drop-on-demand ink-jet, continuous ink-jet, or thermal-transfer print), or via label application. The system is upgradable to meet all cur¬rent and future requirements. Simple and quick updates ensure long-term investment protection.
Companies in this article