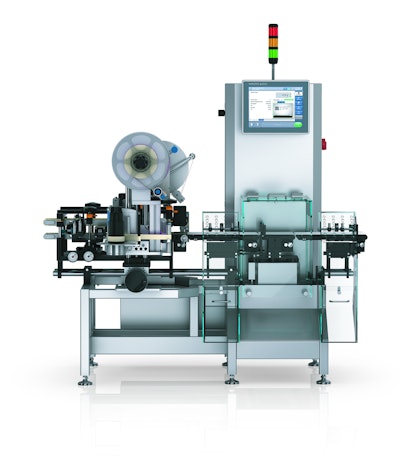 WIPOTEC-OCS, a manufacturer and supplier of precision in-motion weighing and X-Ray scanning equipment, offers a compact three-in-one checkweigher/serialization/temper-evidence module for pharmaceutical applications with a small footprint machine design.
The TQS-HC-A-TE Checkweigher offers precision weight monitoring (one of the company's mainstays), plus traceability and anti-counterfeiting elements increasingly required on pharmaceutical packaging lines.
The unit is bookended by built-in quality control: its lead acronym, "TQS," stands for "Traceable Quality System," indicating the machine's ability to perform serialization-centric duties including in-line printing of batch or unique product identifiers, print verification, and the ability to add extra sensory data to a product's unique identifier.
"TE" indicates that the machine is equipped with tamper-evident labeling systems on both sides, allowing pharma manufacturers to seal the insertion flaps of folding boxes or even apply further anti-counterfeiting vignettes from above. Combined, the traceability and tamper-evidence elements provide compliance with all foreseeable worldwide serialization, including the U.S. Drug Supply Chain Security Act (DSCSA) and the European Union's Falsified Medicines Directive (EU FMD).
The machine's valuable extras do not come at the expense of its core checkweighing duties: the TQS-HC-A-TE utilizes WIPOTEC's precision Electro-Magnetic Force Restoration (EMFR) technology, which enables extremely short settling times to deliver fast, accurate and repeatable weighing results. Thanks to the company's' ConfigureFast User Interface, the transport system, coding unit, camera, scales and labeler are all controlled with a single software application.
WIPOTEC-OCS' TQS-HC-A-TE can handle up to 300 products/minute at lowest-possible reject rates, with an upgrade available that doubles throughput capacity to as many as 600/min at a reduced printing resolution.
Its maximum weighing range of 750g also can be doubled, and options also are available that expand the base unit's maximum product length (120mm), height (150mm) and depth (200mm). The weigh cell's performance while performing all functions mentioned above is barely hindered, with standard deviations as low as 200mg for a blistered carton.
The company also designs and builds about 85% of the sub-components that make up their equipment, with the goal of ensuring reliable performance and end-to-end quality control.