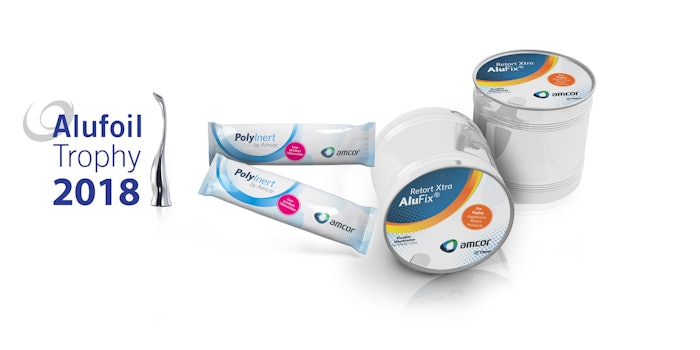 Two sustainable packaging innovations from Amcor that boost efficiency and improve consumer convenience won 2018 Alufoil Trophies at the European Aluminium Foil Association (EAFA) awards.
The company's PolyInert laminates, which enable sensitive pharmaceuticals to be packaged in stick-pack form, won the Resource Efficiency category. Amcor's AluFix Retort Xtra, the newest addition to the successful AluFix range, won the Technical Innovation award.
PolyInert laminate material helps keep pharmaceutical patients safe because its stable and inert high barrier doesn't interact with or absorb active pharmaceutical ingredients and keeps medication effective longer. The company's website also contains information about stick packs and other pharmaceutical pack formats that PolyInert laminates can be applied to.
The awards panel praised the sustainability of the PolyInert stick-pack format, noting, "it delivers a huge saving in material use and energy consumed in making." The smaller size of the stick pack requires 40% less material than four-side-seal sachets commonly used for pharmaceutical powders, liquids and gels. The package's carbon footprint is reported to be up to 30% smaller and consume 39% less water in the manufacturing process.
AluFix Retort Extra aluminium foil membrane makes more convenient peelable lidding practical on metal cans for a wider range of food products, including cans containing foods with low pH values of 2-4, or those containing salts, spices and oils that can corrode or damage packaging materials.
The Alufoil Trophy is organized by the European Aluminium Foil Assn. There are five categories: Consumer Convenience, Marketing and Design, Product Protection, Resource Efficiency and Technical Innovation. Judges also gave an award for Application Innovation. For 2018 there were 10 winners.
Companies in this article