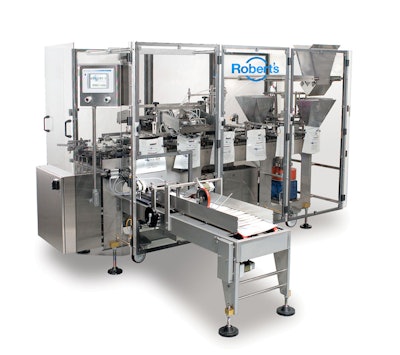 Cloud Packaging Equipment presents the Robert's IMP 1500 (shown) and the Cloud Hydroforma water-soluble pouch machine. The IMP machine can fill large, premade stand-up bags with water-soluble pouches that have been previously filled and sealed using the Hydroforma.
Robert's equipment is known for its "traveling funnel" system. The water-soluble pouches are carried up in an inclined bucket conveyor system and weighed in a scale from Olson Scales. The pouches then drop through the Robert's IMP 1500's traveling funnels.Baffles are placed in the funnel to slow the products descent, which helps eliminate product bridging.
The IMP 1500 is suitable for packaging bulky products. Its traveling funnels keep filling bags through a 180˚ bend in the conveyor. The Hydroforma is used mainly for filling detergents and chemicals in water-soluble pouches; however, food-grade water-soluble film is also available for packaging food ingredients and powered drink mixes.
The IMP 1500 handles many sizes and styles of premade pouches, including reclosable, stand-up bags. It fills and seals bags ranging from a few oz to clubstore sizes of more than 12 lb. Package and product changeovers can be accomplished in 20 min. Cloud/Robert's engineers will customize the equipment to suit specific applications.
Companies in this article