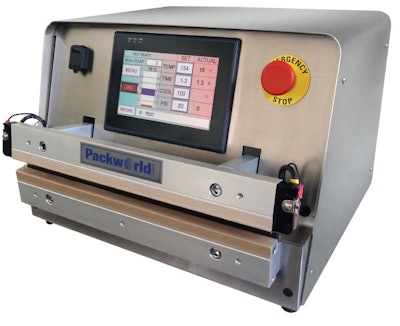 PackworldUSA announces a addition to the robust line of medical heat sealers. Touchscreen HMI controls and alarms are standard on the PW3400 with validatable TOSS technology for precision temperature control without the use of thermocouples.
Ideal for the sealing of medical pouches, Tyvek, LDPE, polyethylene, foils, PTFE, and films.
The TOSS touchscreen with VRC (Variable Resistance Control) now includes recipe storage, multipoint calibration, resettable seal count and machine count, data acquisition, VNC ready, graphical temperature display, alarm diagnostics, password protection, multiple languages, and features "Watchdog" monitoring, which checks temperature outside of the control system.
Validation is easy through the menu-driven single touch process. AUTOCAL, which is featured on all PackworldUSA sealers, guarantees precision from band to band without having to position thermocouples or recertification of equipment.
Applicable for use in cleanrooms, medical device facilities, pharmaceuticals, electronics, and aerospace, the PW3400 is also suitable for high-temperature applications up to 500°C.
With the all-stainless steel case and optional stand, the PW3400 is available in 16 in. and 24 in. (115V) or optional (230V). CE and ISO11607-cGMP compliant.
With and without vacuum/gas purge, this operator-friendly sealer includes easy
calibration procedures and validation guides.
PackworldUSA produces heat-sealing devices that employ the advanced TOSS VRC technology. A complete line of stainless-steel precision sealers is offered, including floor models up to 72 in. L and platen presses up to 24 in. x 44 in. platen size.

Companies in this article