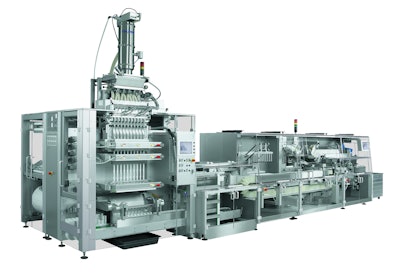 The new LA600 SP-P1600 stick-pack line from MediSeal enables GMP-compliant production and cartoning on a single section using the side-load method.
Stick packs allow patients to take medicines comfortably and safely. Exact dosage and consumption without additional liquids are positive criteria for the consumer as well as for prescribing.
Full-surface printing of the sticks fosters an impressive brand image. Consumption of films is reduced by up to 30%, reducing production costs and improving the environmental impact of the product.
MediSeal produces the stick packs with a line for the primary and secondary packaging of free-flowing powders, granulates, pellets, or liquids. Used in combination with the P1600 side-load cartoner as a line, sticks are positively guided along the entire process chain to prevent the free fall or random distribution of the sticks. As a result, this leads to excellent output quality with high overall equipment effectiveness,
Tailored to pharmaceutical requirements
For stick lengths from 45 to 160 mm, the LA600 SP achieves an output of up to 1,000 sticks/min. The LA600 SP used with the P1600 cartoner in the side-load process enables an output of up to 100 cartons/min.
Maximum mobility of the installation is ensured by its modular construction. It can be configured in the line layout to fit in with different users' space requirements, such as "L" or "U" shapes.
The transfer onto the cartoner is for maximum reliability. Direct suction wheel transfer ensures direct and precise positioning of the sticks in the cassettes of the cartoner feed system.
Companies in this article