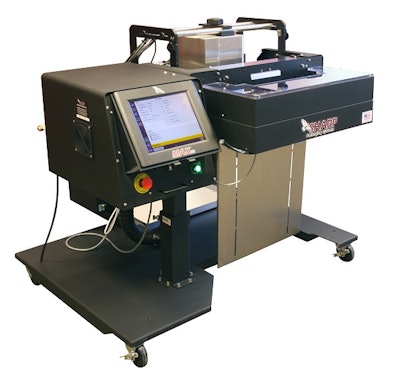 The new line integrates an optional Videojet DataFlex® Plus thermal-transfer printer. All machines have an HMI, which is a networkable touchscreen PC running Windows® 7 embedded plus an Allen-Bradley Micrologix 1400 PLC. Parts are nonproprietary and available off-the-shelf.

The MAX 12 accommodates bags up to 12-in. wide and the MAX 20, up to 20-in. wide. These two models are quite similar and differ only in the width of the bags they can handle.

The MAX bagging system indexes Sharp's specialty E-Z Bag®, then feeds it through the machine where it is opened, filled with a product, and sealed. The new system features a constantly heated sealing mechanism, designed to offer a longer life than impulse mechanisms used by other manufacturers.

The system's thermal transfer printer imprints bar codes, graphics, and alphanumeric fonts directly on the package. The printer is built into the machine and features a moveable printing head that can be set to precise positions, based on package size. With this approach, the machine prints the bags in order, eliminating queuing of bags, which reduces scrap and saves on material cost. There are also significant savings in ribbon consumption due to advance impression placement features.

The controls for the printer are viewed directly on the bagger HMI, without the need to manage multiple monitors or displays for the bagger and printing system. It is possible to control, recall stored labels or even create labels directly on the single HMI. Also included are detailed ribbon consumption tools with a gauge that displays how much ribbon remains.
Companies in this article