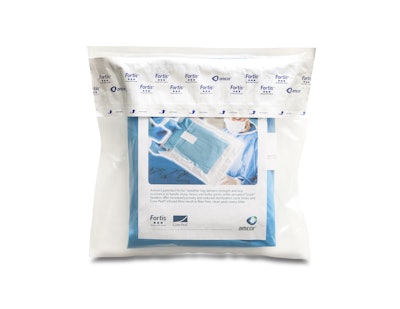 Amcor Flexibles' Fortis™ bag earned a Flexible Packaging Assn. Gold award in Technical Innovation as a patent-pending medical breather bag used for items sterilized prior to use in operating rooms and other medical settings. Both the material and the bag are designed to result in a stronger, more abuse-resistant, cleaner package. Fortis is also designed to provide an improved user experience and a reduced impact on the environment. Fortis bags are sold in sizes typically ranging from 8x10 in. up to 48x48 in., holding products that can weigh as much as 30 lb.
Jesse Blake, Marketing Director, Medical North America, Amcor Flexibles, notes that Fortis development began in 2013. "We felt there was a need in the market for something new," he says. "There hadn't been any development for 20-some years for this type of package. We wanted to design something that was easy to open and provided an aseptic presentation to allow users to tear open the header in the aseptic field.
"We also sought to control cost and downguage material thickness for sustainability," yet still provide a barrier for any sharp objects within the pack. Blake says using uncoated Tyvek® (from DuPont) was a key as it provides the necessary breathability.Once prototypes were developed, commercial orders followed, beginning in late 2015. Blake points out customers believe Fortis gives them an edge and for competitive reasons, they don't want to divulge they are using the award-winning bag.
Amcor manufactures the film in Mundelein, IL, on equipment that enables one-color in-line printing capability; up to 10 colors if printed off-line.Amcor uses a blown film extrusion process, developing Fortis materials that can range in thickness from 2.5 to 5 mil, depending on customer application requirements.
Blake explains the bag employs two film layers plus an uncoated Tyvek strip for the header that is heat-sealed to the film, creating a peelable seal. It incorporates layers of nylon that deliver strength. The structure, he adds, "allows for downgauging when compared to linear low-density polyethylene-based bag. That results in less mass in the waste stream, and the use of uncoated Tyvek reduces the overall carbon footprint," he says. Plus, he notes, the bag is produced without using coatings or an intermediate peel layer under the header.
Customers can fill products or surgical kits into the Fortis bags manually or semi-automatically. As the photo here shows, products are often placed within a blue-covered back-table cover within the Fortis bag. When the operating room worker removes the product from the bag, the table cover serves as a drape, with any surgical devices on top of it, thus helping to maintain a sterile environment.
Companies in this article