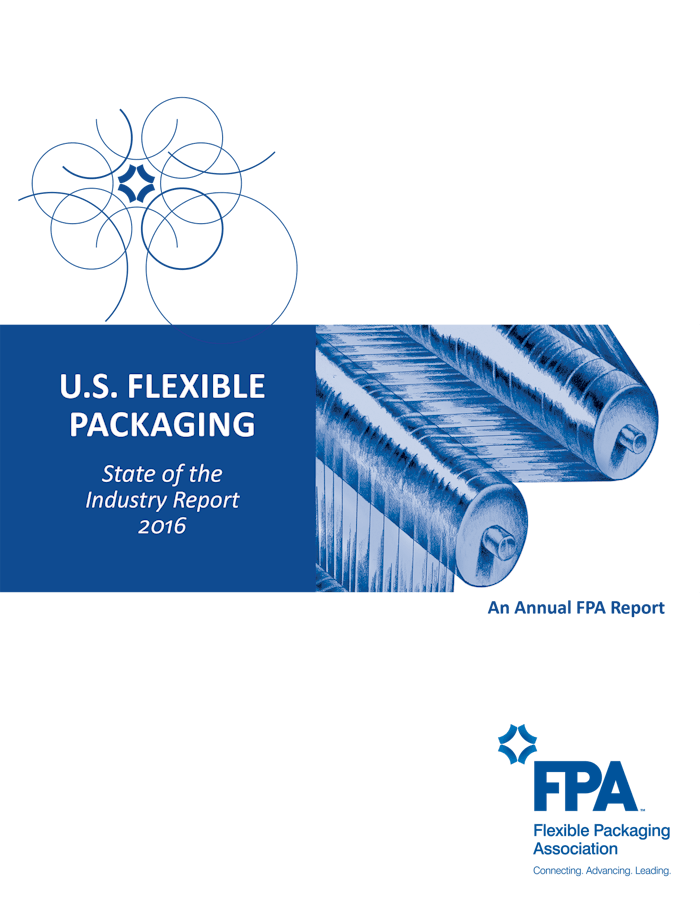 Easy opening, the ability to reseal, and easy storing make flexible packaging appealing to consumers. No surprise then the flexible packaging industry continues as one of the fastest-growing packaging segments in the U.S.
The Flexible Packaging Assn.'s newly issued 2016 State of the U.S. Flexible Packaging Industry Report provides industry converters, suppliers, investors, and analysts with insight into the performance (growth, revenue/volume expectations, profitability, capital spending) of the U.S. flexible packaging industry over the past year.
For 2014-2015, FPA estimated an annual growth rate of 2.2% to $31 billion in annual sales and a 2016 forecasted growth of 2.1% to $31.6 billion.
The report also examines several other aspects of the U.S. flexible packaging industry including the following:
• Materials and processes (printing, expected material usage)
• End uses (end-use segments, including both food and non-food)
• Structure and consolidation (merger-and-acquisition activity)
• Imports and exports
• Industry issues, challenges, and vision
Data available in the report is gathered through several industry sources including FPA members, the State of the Flexible Packaging Industry Survey, the FPA non-members Industry-Wide Converter Survey, the U.S. Census Bureau's latest Annual Survey of Manufacturers, U.S. Departments of Labor and Commerce, industry analystsand consultants, investment banking reports, and the FPA long-term historical model of flexible packaging industry growth.
The FPA 2016 State of the U.S. Flexible Packaging Industry Report is a benefit of FPA membership and is available in the Members Only section of www.flexpack.org. A printed copy of the report is available to non-members of FPA for $3,500.
Infographic shows value to brand owners
On a separate note, FPA announced a new infographic (shown with this story) to serve as a tool to help flexible packaging companies illustrate the value of flexible packaging to brand owners.
Flexible packaging delivers brand impact. According to Packaging World's survey of brand owners, 97% of brand owners that currently use flexible packaging said they plan to continue to use the same amount or more in the next five years and 80% of brand owners agree that packaging influences brand value.
Consumers seek the convenience of flexible packaging. In a FPA survey conducted by Harris Poll, the top three packaging attributes rated by consumers are: flexible packaging is easy to store; offers the ability to reseal flexible packages; and provides easy opening.
Consumers are willing to spend more money for flexible packaging. The Harris Poll also showed that 60% of consumers will pay more for flexible packaging attributes that offer easy storability, ability to reseal, easy opening, and extended shelf life. Flexible packaging also creates less footprint.To transport packaging for an equal amount of product, it takes more than 26 truckloads of unfilled glass jars versus one truckload of unfilled flexible pouches.
FPA serves as the voice of the U.S. manufacturers of flexible packaging and their suppliers. The association's mission is connecting, advancing, and leading the flexible packaging industry. Flexible packaging represents more than $31 billion in annual sales in the U.S. and is the second-largest and one of the fastest-growing segments of the packaging industry. Flexible packaging is produced from paper, plastic, film, aluminum foil, or any combination of those materials, and includes bags, pouches, labels, liners, wraps, rollstock, and other flexible products.
Companies in this article