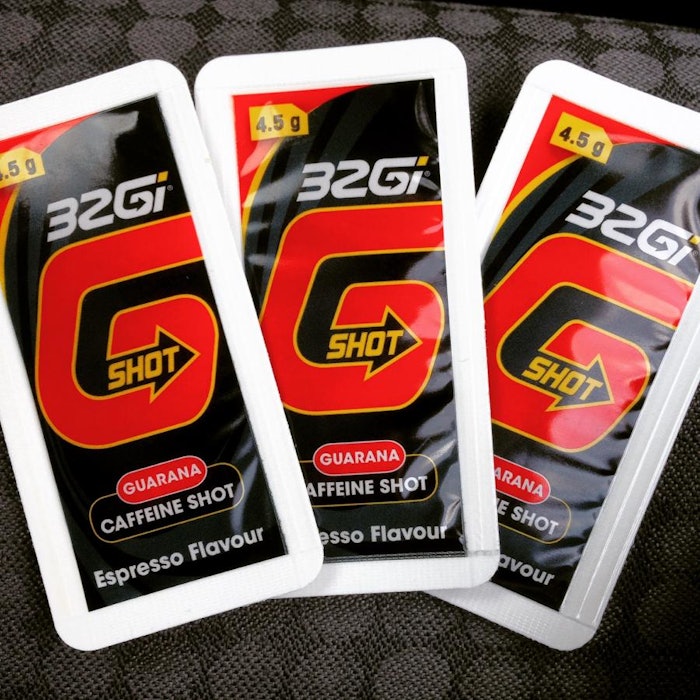 32Gi Sports Nutrition is a South African provider of endurance supplements formulated both for elite athletes performing at a high intensity as well as for athletes who compete socially and those who exercise for health, fitness and weight maintenance. Its products include drink mix powders, sports chews and tabs, health bars, and tablets. In 2013, the company began the development of two new gel product lines—Sports Gel and the G-Shot—for high-intensity training or cycling.
"These were new products," says 32Gi co-founder Mark Wolff. "From inception, we wanted them to be very different from other gels packaged in typical sachets or pouches. We also wanted them to be more environmentally friendly by removing the tear-off [tab of the sachet], which has been known to cause havoc on the roads and trails."
32Gi's requirements for the new packaging were that it be able to hold the required product volume, be EU-approved for export globally, and be convenient for the athlete to open and use.
With sachet and pouch suppliers difficult to come by in South Africa, timing was everything for the project. At the same time as 32Gi was looking for a package that provided differentiation, contract packer EasyPack Packaging (Pty) Ltd.reached out to the supplement maker to pitch a new sachet technology, the Easysnap from Easysnap Group.
The Easysnap is a square, single-dose, semi-rigid sachet that allows for one-hand dispensing. The package uses a patented center cut customized for the product application that allows the contents to be dispensed in a controlled manner when the consumer bends the packet in half. The sachet is constructed of top and bottom multilayer film structures, where the bottom barrier film is scored on the outer layer and on the inner layer, which is in contact with the liquid product.
For the 32Gi gel application, the bottom layer is constructed of linear low-density polyethylene/ethyl vinyl alcohol/LLDPE/polystyrene, with the PS providing the rigidity for the sachet to crack open during dispensing. The top layer is made from PET/metallized PET/LLDPE.
32Gi is using a 4.5-g size Easysnap for its G-Shot product and a 27-g size for five varieties of its Sports Gel. An EasyPack-preferred vendor prints the 32Gi pouches using digital printing technology.
The gel products were introduced in 2014, and Wolff says consumers love the innovation. "Our customers find it unique," he says. "It's easy to carry, since it's flat like a credit card, so storage isn't a problem. Runners love the packaging because it's easy to carry in their running tights. Cyclists also find it very easy to store, and the one-handed snap-and-squeeze mechanism removes the risk of a bike accident. After use, reverse folding the packaging keeps it mess-free for storage in the cycling vest."