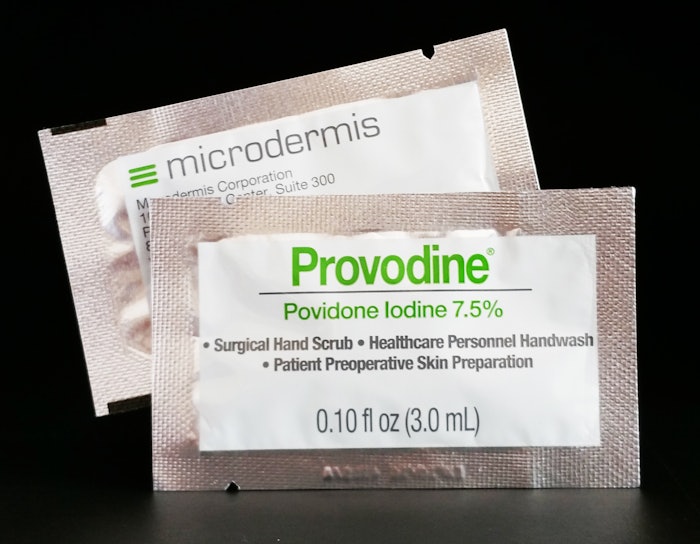 A laminated flexible film structure from Ampac proved essential in helping lifesciences company Microdermis Corp. launch its flagship product Provodine®, an infection-control product to be initially targeted to the U.S. military.
The proprietary structure earned a 2015 AmeriStar Award in the Drug & Pharmaceutical category.
Princeton, NJ-based Microdermis Corp. is a lifesciences company that focuses on the development of novel products based on its patented Amidermal® technology.
Harry Corless, VP of Technical Operations for Microdermis, notes, "Provodine is a cream targeted initially only in the U.S., but soon globally starting in South America. Beginning with the U.S. military, it will be sold into the professional market, to hospitals, clinics, and long-term care facilities."
Provodine is sold presently in 3-mL packettes/sachets, 4-oz bottles, and 16-oz bottles with pumps, with additional SKUs planned for next year. For this article, the focus is on the product's fast-growing packettes.
Microdermis refers to the product as a next-generation professional antiseptic that meets or exceeds FDA requirements for use as a surgical scrub, pre-operative skin preparation, healthcare personnel hand wash, and first aid antiseptic.
Provodine uses Microdermis' Amidermal technology for enhanced kill strength of dangerous microbes. Provodine has been tested against most category 1 (deadly/weaponized/no known cures) pathogens and kills them all within 30 seconds of exposure time, even after 12 hours of dry time on exposed skin.
There are currently no known resistant strains to Provodine, useful for deployment in challenging environments with an unknown mix of infection sources, such as in military field hospitals, and with globally deployed NGO (non-governmental organization) personnel.
Provodine uses Povidone-Iodine and contains a proprietary blend of skin moisturizers and humectants that nourish and rebuild the skin, eliminating dryness and cracking, which are not only uncomfortable, but also create portals for microbes.
Corless says, "Provodine has a broad spectrum of kill, provides increased longevity of protection, and is more gentle to the skin than other competitive products in the market today."
Considerable packaging requirements
What does this product require of its packaging?
"Moisture and light barrier are critical for the efficacy of the product," he says. "The chemical resistance in the Ampac laminate is also critical to maintain the package integrity.
"Ampac was chosen for the robustness of the laminate they produce. Other suppliers were evaluated but theirs was the only one compatible with our iodine formula," says Corless.
Beyond its critical barrier properties, the Ampac material provides Provodine users with a convenient straight-line tear across the package that rolls onto itself like a toothpaste tube in order to safely dispense all product contents from the package and apply it to the skin.
"The package allows the user "to squeeze product directly onto the skin or into a tray for use with applicators," Corless explains.
Incorporated into the Provodine packaging are high-performance adhesive systems that work in combination with Ampac's proprietary chemical barrier layer, enabling the laminate to withstand the extreme chemical and environmental conditions in which the product must operate, such as in remote areas in Africa.
The laminate is printed flexographically, with product description, product user instructions, and product ingredients.
A proprietary polyolefin sealant layer ensures maximum package output while also enabling sealing through product. Ampac sends rollstock of the material to Microdermis's proprietary contract packager, which uses high-speed vertical form/fill/seal equipment for the process.
Packettes are packed 100/dispensing chipboard box, six boxes per case, with 99 cases shrink-wrapped onto a pallet. Pallets are shipped to the Microdermis distribution center in South Bend, IN, then on to customers.
Diverse benefits
The structure provides key benefits for Microdermis. The AmeriStar Awards competition documentation noted the following advances:
• Innovation/creative application. The set packaging requirements for Provodine were to provide a flexible, portable, easy-open, and easy and safely dispensable packaging format that's fully functional from traditional clinics and hospitals to mobile field hospitals in remote jungle villages.
• Technical advances. The product's aggressive chemical compounds presented a series of challenges for packaging the product in a flexible material format.
Traditional polyester/foil/LDPE adhesive and extrusion-laminated packaging materials are not suitable for packaging Provodine. The industry standard aluminum foil barrier laminated material will break down and degrade when in direct contact with the antiseptic products' composition while also being exposed to extreme environmental conditions in which the product and package must perform.
In order to ensure 100% package integrity and product efficacy several technical advancements in adhesive, chemical barrier, and sealant system technology were required.
• Design advances. The proportional tear characteristic make the package easy to open and access by the healthcare practitioner. The careful selection of raw materials working in concert helped to achieve the final package design, configuration and performance requirements.
• Transfer of one technology from another use or industry. With a slight modification of the Provodine seven-layer laminate, the material has shown during evaluation and stability testing that it is applicable for products such as hot sauce, automotive fluids, and household and industrial cleaners.
• Economics. The single-dose package provides a key benefit over bulk packaging via a controlled dose that prevents product overuse, providing cost savings to the healthcare practitioner/ institution.
• Performance. The portable single-dose sachet provides the essential amount of product required to cover a specified area of exposed skin to provide for critical protection from life threatening viruses, such as Ebola.
• Sealant. A proprietary polyolefin sealant technology maximizes package production output and delivers excellent seal-through contamination properties for maintaining high package output with minimal package rejection off the contract manufacturer's high-speed vertical form/fill/seal packaging line.
• Portability. The package is convenient for remote medical care facilities, such as mobile military hospitals and health clinics. It's easily transported and applied in an emergency within medical kits in emergency vehicles, ambulances, police cars, and military medevac personnel carriers.
Corless says, "The unit-dose 3-mL packette has received positive feedback so far." And the company anticipates the rollout of a full pipeline of further products now in active development that will follow closely behind the launch of Provodine.
Companies in this article