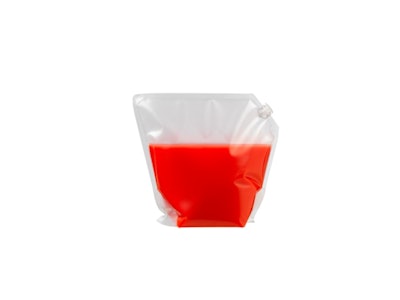 Ecolab Inc.'s 45,000 associates work to make the world cleaner, safer, and healthier by providing technology and services in water, hygiene, and energy markets, which include healthcare and industrial applications. And sustainability efforts are genuine for the St. Paul, MN company, earning it a sixth-place ranking from Newsweek on its Global 500 list of "World's Greenest Companies" and fourth-place on the U.S. 500 list.
Packaging plays a central role in Ecolab's sustainability efforts, recognized recently when the Institute of Packaging Professionals announced that the Ecolab Oasis Pro 2L Pouch was a 2014 AmeriStar award winner in the Industrial/Commercial category.
Commenting on the pouch from Ampac, the awards competition said, "The Oasis Pro is a comprehensive, easy-to-use, closed-loop dispensing system for consistent proper dilution of high-performance cleaning products. Its flexible packaging reduces plastic waste by 80 percent compared to traditional containers and ready-to-use solutions. It uses less packaging with less freight waste. Ecolab uses a unique collapsible bag with self-closing port to offer a closed-loop dispensing system to limit contact with the chemistry while also minimizing waste."
Jeff Schultz, Ecolab's Senior Packaging Engineer, RD&E, says, "Our mission is to make the world cleaner, safer, and healthier and is the main driver behind how we package our products. Ultimately, in our world, it's all about containment. We strive to develop systems that are safe, ergonomic, cost-effective, high-quality, and regulatory-compliant. Around the world, businesses in the foodservice, food processing, hospitality, healthcare, industrial, and oil and gas markets choose Ecolab products and services to keep their environments clean and safe, operating efficiently, and help them achieve their sustainability goals. Packaging plays a huge role in delivering to our customers."
According to Schultz, the 2-L Ecolab Oasis Pouch liquid containment system serves as a combination package, with two 2-L packs sold as one unit. The pouches are independent, separated by an integrated divider. "We have a multitude of different product types that go into this bag," he notes. "These include chemicals, which are traditionally hard to contain and are hazardous, thus regulated by either the EPA, FDA, or UN. That really dictates some of the test requirements these packages have to meet." He says the Ampac pouch is qualified for use with approximately 65 different products today, with that number continuing to rise.
Replaces previous pouch
Schultz says the single-web Ampac pouch replaced a three-web doyen-style pouch launched about seven years ago, whose original bag designed had earned a 2007 AmeriStar award. "It was a seven-mil, laminated, stand-up pouch," he notes. "We continuously strive to improve, to optimize, and to innovate. Our Greaselift product formula caused the previous pouch plies to separate. Greaselift contains a high level of solvent and it would essentially dissolve any and all adhesives that we used to laminate those plies.
"Delamination results in a loss of pouch integrity. So we had to identify a new film structure that would not delaminate, maintain the necessary barrier properties, and be able to withstand the requirements of UN and FDA protocols."
Ecolab sought solutions from multiple vendors before partnering again with Ampac. "We did business with them prior to this," Schultz recalls. "When we brought them in for this application, they suggested that we use their coex structure."
Producing the pouch
At its Cincinnati plant, Ampac coextrudes a proprietary nine-layer, 6-mil film that includes metallocene and nylon in the structure. The film provides heat- and abuse-resistance, superior seal strength as well as a low water-transmission rate. The coextruded structure remains pliable and strong when subjected to extreme hot and cold environments. Another attribute of the film is the collapsibility of the structure capable of achieving less than 1% residual product after use. This cold-loop system truly keeps customer safety on the forefront of the design.
Ampac also converts the structure, forming individual pouches on Totani equipment.
Schultz says Ampac works with Innovative Packaging Network (IPN), which provides them with an injection-molded high-density polyethylene fitment. Ampac's Hanover Park, IL, pouch-manufacturing facility makes a 45-degree-angle cut in the pouch to heat-seal the fitment to the structure to create the spouted pouch.
So why did Ecolab select Ampac? Schultz explains; "They really had the expertise in the area of manufacturing six-mil coextrusions. Some vendors opted out purely for that reason; they weren't comfortable with that thickness. The decision came down to working with one vendor to manufacture the complete package. Ampac makes its own film, converts it into plow-bottom-gusseted pouches, attaches the spout, and ships the pouch to us. It streamlines our supply chain."
Pouch yields benefits
Ecolab fills pouches on two virtually identical filling lines at its Martinsburg, WV, facility. Operators suspend pouches from their fitments for filling on IPN equipment. The fitment is heat-sealed in the corner of the pouch at a 45-deg angle. The spout is a key factor in creating a closed-loop system. A probe is inserted into the spout to fill product and once the probe is retracted closes off the spout with a friction-fit plug.
Asked to compare costs of the current structure versus its predecessor, Schultz says, "Multilayer films can be obtained through a number of processes. The process to manufacture a laminated structure is extensive and many steps are eliminated by moving to a coextruded film. Lamination creates multilayers by putting together different layers of material with adhesives. Coextrusion is a process of extruding a multiply structure with several layers of resin through one die simultaneously, creating a single integral structure.
"As you can imagine taking those manufacturing elements out of the process what that would do to costs. After the shift was made to the coex bag Ecolab boasted a 17-percent reduction in material, moving from the seven-mil laminate to the six-mil coex.
"The previous style used an inserted gusset, which is a separate roll of material that seals to create the bottom, whereas the plow bottom of the new pouch is from just one web," Schultz continues. "So from one roll, there will be a machine that looks like the shape of a plow, to crease the material. Hence the name plow bottom. It creases the bottom of the pouch when it is forming to create a 'w' shape and then it pinches each end. The end result is a bottom gusset that's folded instead of inserted. That was an intentional move by us to eliminate as much seal margin as we could."
Compared to the doyen-style pouch, the plowed-bottom gusset increases capacity up to 35% using the same size pouch. The new structure also helps Ecolab meet rigorous UN drop tests, as per the USDOT-49-CFR. Improved drop resistance enabled a 20% material reduction to the outer shipping case as well.
Schultz says Ecolab also has to be concerned about potential pouch damage to the structure contacting the outer shipping container during warehousing and shipping. "That was a real challenge," he says. "Flex-cracking or pinholing effects during vibration was another element of the UN distribution test as well as the ASTM D4169 test. That was one of the reasons we pursued Ampac's film because of its resistance to flex-cracking.
"As you can imagine, some of the mechanical properties change as you approach the zero-degree Fahrenheit temperature required by UN test protocols. So it's really hard to predict going into the selection of these films, which one is going to perform at a colder temperature. The coextruded performs much better than the laminate when it experiences cold temperatures. The laminate with its heavy nylon remains brittle while the coextruded remains soft and pliable throughout the test, which translates into a successful result. So even though the coextruded structure is thinner than the previous laminated version, it still provides the high barrier and drop performance needed by Ecolab. The new pouch offers users a safe, tight, collapsible pack, which has been well received by Ecolab customers."
To see a spin + zoom 360° photo, click here.
Companies in this article