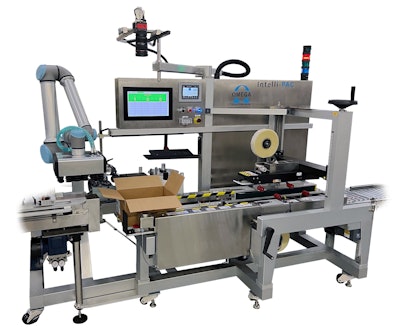 Omega Design will premiere its collaborative robot (cobot) packing assistance capabilities for its Intelli-Pac semi-automatic case packer at PACK EXPO International Booth S-3112, October 23-26 in Chicago. The cobot system is powered by manufacturing technology provider Xyntek.
Intelli-Pac's highly flexible platform supports a variety of semi-automatic production modules, including case formers, print-and-apply case labelers, case layer inspection units, and case sealers. Ideal for loose or bundled bottles and cartons, the new cobot capabilities can safety and reliably pack up to 70% faster than manual loading. Cobot assistance also is available as an upgrade on existing Intelli-Pac machines.
The enhanced cobot capabilities build upon Omega Design's well-established Intelli-Pac system. Intelli-Pac enables operators to simply and expediently remediate out-of-spec products at the point of discovery, preventing costly downstream reworks and resulting in a process where cases are only sealed once satisfactorily aggregated. Versatile and vendor-agnostic, the machine permits brand owners to use their preferred serialization data management software and vision systems.
Cobots incorporated into the Intelli-Pac system are either Universal Robots or UR10e modules. They have a 51-in. radius range and can handle case layers weighing up to 12 kg. Intelli-Pac machines are available in stainless-steel or anodized aluminum frames, and can handle cases consisting of single and multiple layers. They handle cases with minimum dimensions of 6- x 4- x 3-in., and maximum dimensions of 24- x 15- x 21-in. Case label sizes range from a minimum of 2- x 10-in. for corner wrap labels, 2- x 5-in. for single-side labels and a maximum of 4- x 10-in. for corner wrap labels, 4- x 5-in. for single-side labels.
Companies in this article