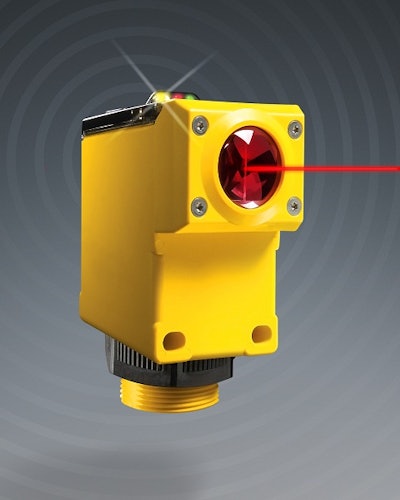 When traditional solutions are more costly due to infrastructure requirements-complexities of cables, conduits and installation-operators can quickly integrate a scalable, wireless sensor network to improve efficiency by monitoring and coordinating multiple machines and processes.

The SureCross Q45 improves efficiency in control and monitoring applications through the following performance features:

• Turnkey photoelectric wireless photoelectric solution
• Proprietary power management delivers extended battery life up to five years on two replaceable AA Lithium batteries, depending on sensor and application
• Long range communication of up to 3,000 ft/1 km line-of-sight minimum
• Multiple I/O with support of a wireless network of up to 47 Q45 sensors/gateway
• Deterministic PLC-level reliability
• Built-in site survey capabilities
• Robust, IP67/NEMA 6P protection against liquids and debris common to industrial environments

Applications for the SureCross Q45 include cable replacement, moving applications, remote applications, and productivity solutions. To meet diverse application requirements, models are available in Polarized Retroreflective, Convergent Visible, Remote Device Interface and Fiber Optic.

Watch a video about the SureCross Q45 Wireless Photoelectric Sensors.
Companies in this article