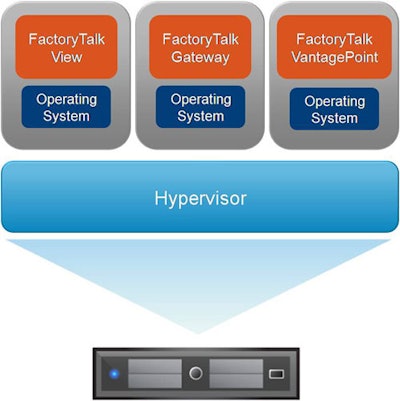 To bring virtualization capabilities to the manufacturing environment,
Rockwell Automation
is supporting the use of its automation software on virtualization solutions from Silicon Valley-based
VMware
. Virtualization helps manufacturers build an infrastructure that better leverages resources and delivers high availability. Rockwell Automation will also participate in the VMware Ready program, with plans to validate its Rockwell Software configuration, human interface and information products.
"Today's x86 computer hardware is designed to run a single operating system environment - this 1•€'1 ratio results in most workstations being vastly underutilized," said Ken Deken, vice president, Portfolio Management, Rockwell Automation. "In fact, only 8 to 10 percent of a CPU is typically used. This means money is spent to purchase, operate and maintain more CPUs than are necessary, wasting valuable floor space, increasing energy consumption, and tying up spending capital."
Virtualization fundamentally changes the way hardware resources are used. Virtualization works by inserting a thin layer of software called a "hypervisor" directly on the computer hardware or on a host operating system. This layer contains virtual machines that can be transparently allocated to hardware resources when and where they are needed. Multiple operating systems run concurrently in isolated virtual machines on a single physical computer and share hardware resources with each other.
By encapsulating an entire machine, including CPU, memory, operating system and network devices, a virtual machine is completely compatible with all standard x86 operating systems, applications and device drivers. Virtual machines can be run on any virtualization-enabled physical server, creating a pool of compute resources that helps ensure the end user's highest-priority applications will always have the resources they need without wasting money on excess hardware only needed for peak times.
Virtualization technology also simplifies the distribution of bundled offers, such as the Rockwell Automation PlantPAx Process Automation System, and extends the life of software. Rather than upgrading software every two to three years or testing "old" Windows versions, virtualization technology helps enable end users to run the same software on a particular PC or operating system for more than 10 years.
"One of the primary issues that manufacturing end users continuously site is the great disparity between the long product life cycle of their automation hardware versus the short product life cycle of their automation software," according to Craig Resnick, research director, ARC Advisory Group. "VMware Ready products extend the product life cycle of automation software, as well as help manufacturing end users fulfill their energy savings and sustainability objectives, through the more efficient utilization of their automation infrastructure. This results in improved key performance indicators (KPIs), a lower total cost of ownership (TCO), and a shorter return on investment (ROI)."
Most Rockwell Automation configuration, human interface and information products, such as the Rockwell Software RSLogix, FactoryTalk View, FactoryTalk Historian and Factorytalk VantagePoint software, are supported when running on the VMware platform. Support for a virtual environment is based on the user's Rockwell Automation service agreement, as well as product documentation for the operating system running in the virtual environment.
Companies in this article