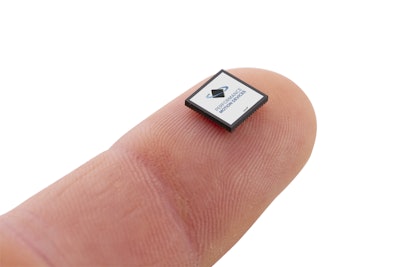 With highly precise operations such as pharmaceutical liquid filling and surgical robots, keeping tight control over motion, vibration and noise is key.
Performance Motion Devices, Inc, provider of high performance integrated circuits, boards and drive-based motion control solutions to OEMs around the globe, is showing its new Juno® Step Motor Control Integrated Circuit (IC) in a small 56-pin VQFN package at Healthcare Packaging EXPO at booth #W-538.
Juno ICs are targeted for designs with limited space that require controlled noise, vibration and power consumption. Applications include precision liquid pumping, packaging and lab automation, pick and place machines, flow rate control, and other robotic, scientific, and industrial applications.
The ICs, the second in the Juno family, are quick to deploy with easy-to-understand embedded motion commands and on-board intelligence, offering a boost in machine performance without expensive upgrades.
Higher frequencies
OEMs can increase resistance in small motors by switching to higher frequencies.
The package represents a new step for Performance Motion Devices, as it has the highest PWM frequencies ever offered by the company and the smallest IC parts, measuring 7.2 mm x 7.2 mm.
Juno Step Motor Control ICs are available both with encoder input and without. In addition, the Juno Step Motor Control IC comes with safety features, including stall detection, over- and under-voltage sense, overcurrent detection, over-temperature, and i2 t current foldback which provide OEMs with performance advantages and reduced risk. "If an issue occurs, the system can react and protect the motor. This is built into all of our chips," said Peter Vandermeulen, Vice President, Global Sales and Marketing at Performance Motion Devices.
Coupled with compact MOSFETs, the Juno Step Motor Control IC can replace older step motor amplifiers and dramatically reduce the size and heat output. In some cases, switching to these ICs can reduce noise output by 30 dB. Noise control can be extremely important, particularly in the presence of certain chemicals (See Chemicals and danger to hearing in our recent safety article.)
Avoiding transition to brushless DC motor
"Juno Step Motor Control ICs offer embedded motion and utilize a proprietary current control technique that results in ultra-smooth, quiet, and efficient motion of the step motor," said President and CEO Chuck Lewin. "By driving step motors more quietly and rapidly, existing step motor-based systems can get a performance boost and avoid an expensive transition to a brushless DC motor. In short this IC lets step motor users upgrade the controls but keep the motor and still get a big jump in machine performance."