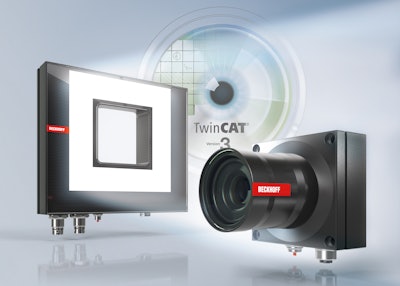 At the show, Beckhoff Automation featured the North American debut of its new machine vision hardware portfolio with the introduction of new cameras, lighting, and lenses. The Beckhoff vision platform enables engineers to implement image processing directly in a standard PLC environment.
Beckhoff has had machine vision software since 2017, but its new equipment complements the proven TwinCAT software by incorporating EtherCAT into the camera and lighting hardware. TwinCAT includes machine vision and all other areas of automation in one package. The vision integration streamlines a variety of processes, including label verification, high-precision optical measurements, pick-and-place operations, and assembly and subsequent inspection.
The cameras generate high-quality image data via monochrome and color Sony CMOS sensors with up to 24-megapixel resolution and GigE Vision transfer rates of 2.5 Gbit/s. As Vision Product Manager U.S. Todd Jarvey explained at the show, "Our TwinCAT software platform, which we use for our general machine control, allows us to fully synchronize motion with vision and other control functions on the machine. We can trigger a camera based on the position of an axis of motion at a sub-microsecond level." This synchronization eliminates the need for additional hardware triggers, wires, and process steps.
Prior even to full release of the system, Beckhoff Vision earned a Red Dot Award and the iF Design Award Gold, the highest distinction in the competition.
Lighting and lenses
The platform incorporates advanced lighting products (IP65/67, EtherCAT-enabled multicolor LED illumination, in panel, ring, and bar configurations). Jarvey added, "Because it's EtherCAT, our standard industrial network, you could add all the vision equipment, I/O modules, servo drives, and more on this one network."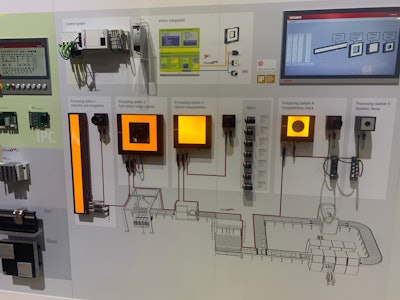 The 4-channel LED lights ensure optimal image contrast and also enable specialized inspections. All lenses are designed to operate in the visible through NIR wavelengths. VOS3000 lenses are chromatically corrected to maintain proper focus across a wide spectrum of wavelengths, from 420 nanometers to beyond 1050 nanometers. "We include IR which reacts with materials differently than visible light. It allows the vision system to do backlight inspections, and see through opaque plastic objects for fill levels, for example," Jarvey said. This versatility allows users to employ multiple wavelengths of light without the need for constant refocusing.
Scalability
A key feature that sets this vision system apart is its scalability. Manufacturers can tailor the system to their specific needs, selecting different cameras, lights, and controllers of varying functionality and performance. "In addition to GigE Vision 2D cameras, there are thermal cameras, time-of-flight cameras (which are 3D cameras that provide a monochrome depth image) and line scan cameras that we can utilize. Many other technologies are also compatible with our software interface," he adds. This adaptability ensures that the platform can seamlessly integrate into various processing and packaging environments, from simple label verification to complex assembly processes.
The platform's ability to synchronize vision inspection results with machine control in real-time, thanks to its shared TwinCAT runtime software, powers real-time reactions and greater data transparency for better quality control, traceability, and more, for a wide variety of applications.
Also at the show:
· Beckhoff showcased updates to its XPlanar "flying motion" system, and its linear XTS linear transport solution now in a washdown, IP69K-rated format: the stainless steel XTS Hygienic.
· Also at the show were other updates to TwinCAT 3 automation software, including new features in Build 4026. Beyond expanded Machine Learning capabilities, Beckhoff offered a technical preview of TwinCAT Chat, which integrates generative AI technologies like ChatGPT directly into the controls environment. "Now engineers can harness AI in their PLC programming to automate everything from debugging and adding notes to creating function blocks from scratch," reported Daymon Thompson, Director of Product Management at Beckhoff USA.
Companies in this article