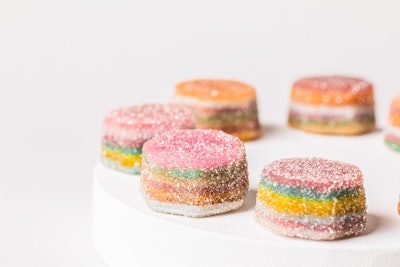 "Consumers don't just want personalization, they demand it," according to a McKinsey report citing COVID-19 and the surge in digital behaviors raising the bar for all players. There's been a rise in personalized skincare, haircare, and more as consumers look to branch away from off-the-shelf offerings. But shorter, customized runs in healthcare can strain production capacity at legacy plants.
Meanwhile, 3D printing has been making its mark on life sciences and production, from faster prototypes and assembly parts for manufacturing to customized medical devices.
One supplement company founder saw a way to use 3D printing to deliver personalized gummies that meet demand for tailored vitamins. As Melissa Snover, a registered nutritionist and founder & CEO of Nourished, explains, "Everyone has different nutritional needs that should be catered to. Mass manufacturing vitamins has been the standard practice for decades, but it is not necessarily practical when introducing customized products, or when someone is looking for a nutritional regime to fit their specific needs."
She feels that the current industry standard for personalization, picking separate tablets and packing them together, isn't necessarily convenient, truly personalized, or sustainable.
In 2020, Snover launched Nourished's personalized vitamins and "Life Stacks." The company uses 3D printing machinery to layer different "mixes" of active ingredients on top of each other to form a single product quickly, which is specifically suited to the consumer's individual requirements. The stacks encompass made-to-order natural vitamins and ingredient combinations that are sugar-free, vegan, allergen-free, and plastic-free.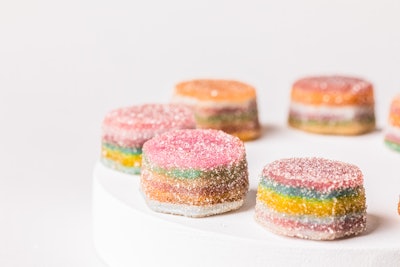 From questionnaire to 3D production
For Nourished, 3D printing itself is an integral part of their unique manufacturing ecosystem and the level of personalization they deliver to customers.
Customers take part in a quick two-minute consultation questionnaire, which generates recommendations for seven layers of nutrients (out of 35 options) that are best suited for the individual via a proprietary algorithm.
How did they land on seven nutrients in the Nourished stacks? In product development, they found that the average consumer in the U.S. and UK was taking between five and eight vitamins and nutrients a day.




"After we discovered this, we did some research and found that given the current diverse food supply in the Western countries—very few people were deficient from micronutrients, except vitamin D and, in some cases, vegan iron/B12," Snover explains. A deeper look into why they were buying supplements showed that consumers wanted to help support their lifestyle and achieve their goals. "This is why we ended up offering seven unique layers in each Nourished stack."
Once the customer completes the quiz—and the customer selects their coating flavor from six options including strawberry, pineapple, and cola—their personalized stack results are shown, displaying the suggested nutrients. Stacks are available for both one-time purchase and longer-term subscription. Each box contains 28 daily stacks.
As Snover explains, once the seven nutrients are selected, Nourished uses a proprietary 3D file and a movement instruction file within the 3D printer—this tells the printer what to create, how to move, and when to deposit the gummy material. "We use fused deposition modelling and seven print heads to create an industrial 3D printer capable of making a monthly supply of personalized supplements in just minutes. The machines utilize the normal X, Y, and Z axis with the addition of a four-rotation axis, together with an innovative plug-and-play cartridge retraction system," Snover says. The production team picks seven cartridges containing the seven active ingredients bespoke for each customer and loads these into the 3D printer for it to create a month's supply of completely personalized stacks.
Nourished encapsulates all of the consumer's chosen active ingredients into a patented vegan hydrocolloid gel, meaning the body digests the Nourished stack like any other food for effective absorption of active ingredients. (The company guarantees that customers will receive at least 99.5% of the nutritional value of the gummy.) Snover notes, "To create each bespoke blend, we use seven plastic-free, food-grade syringes, which 3D print on a rotation method to encapsulate all of the active ingredients without them destroying each other."
All stacks are produced at the Nourished British Retail Consortium (BRC)-accredited factory and are tested consistently by an in-house quality team. "Safety is our priority, and we make sure to sterilize and clean all utensils within our facilities and do not stock any other products which can cause cross-contamination," she adds.
While some supplements are affected by heat, light, humidity, and more, Snover notes that with 3D printing on demand, quick shipping, and a high threshold for thermal reversing (60° C), the stacks remain stable from production to consumption.
---
---
Package design
Next, Nourished packages each stack in home-compostable wrapping, personalized with the customer's name on it. They use a flow wrapper on-site at their facility in Birmingham. "We've saved more than 7,000 pounds of plastic waste, and it doesn't stop there! Our packaging is 100% plastic-free, and our home-compostable wrappers made from wood pulp help to nourish the Earth's soil," explains Snover. (Editor's note: Machine and packaging suppliers were not able to be shared.)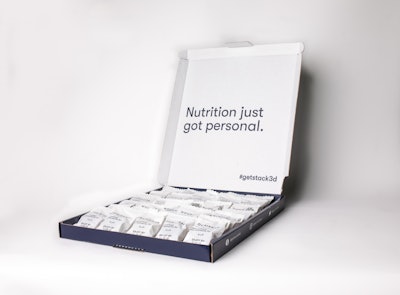 The set of 28 pouches is packaged in a paperboard carton. While the company originally designed their Nourished boxes to be able to display each stack individually, after launching in 2020, they received customer feedback that they would prefer a smaller, more compact box for their stacks.
"So, our design team began drafting up new packaging, which would still reflect our premium brand, but which would also be much more convenient for deliveries and storage. We introduced our letterbox-friendly box in May 2020, which is made from at least 90% recycled cardboard, which can be further processed or up-cycled many times," Snover explains.
A sleeve is only added to the outside of boxes in a retail environment to differentiate Life Stacks. Direct-to-consumer orders are placed inside the letterbox-friendly box only—without tertiary packaging—to help reduce the company's packaging and environmental impact.
"The production process does not include any artificial glue, and even the ink used is vegetal [water-based]. Furthermore, we researched extensively to find an ethical supplier based in the EU, which means the greenhouse gas emissions to import the boxes are extremely low compared to cheaper suppliers further afield."
The company is passionate about sustainability and their responsibility to maintain a low carbon footprint. "Our individual flow wraps can be absorbed into the ground in just 32 weeks—they are certified with the TUV home-compostable standard, and even contain a biodegradable ink. Simply pop them into your home composting unit and leave them to breakdown into the earth," she says.
Continuously evolving
Not inclined to rest on their laurels, Snover says the team at Nourished is consistently working to adapt and provide the best product possible in the most efficient manner. This is made easier by the fact that their printers are manufactured in-house. "We have a 'printer farm' where we are constantly building, optimizing, and developing our hardware. When we came up with the concept of Nourished, there wasn't a manufacturing process available that would allow us to achieve the levels of customization we were so determined to achieve. So, we spent around 18 months in R&D creating our own prototype, which we have developed over time to 3D print our bespoke gummy blends."
Manufacturing the product and printers in-house gives Nourished control over their own supply chain. "It has allowed us to ramp up our production in response to consumer demand, adapt based on our valued customer feedback, and will also allow us to scale our business into new markets and regions in the future," she says.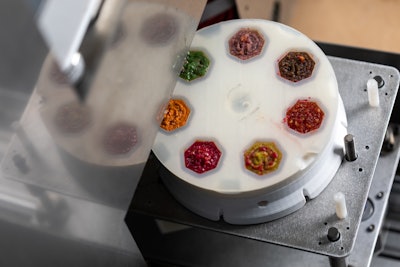 E-commerce and next steps
Having launched in the UK in January 2020 and expanded into the U.S. market later that year, the 3D-printed vitamins can currently be purchased in either country through Nourished's website. "We have plans for EU expansion, as we would love to offer even more customers personalized vitamin stacks to improve their health, lifestyle, and goals," explains Snover.
Nourished also has several plans in the pipeline as they continue to grow the list of sugar-free, vegan nourishments they offer:
In May, they launched their latest ingredient, Lutemax 2020, a nutrient designed to benefit eye health.
In the past year alone, they introduced ingredients that target menopause, PCOS, and sexual wellness.
As Snover says, "We will not be slowing down anytime soon. We want to place a focus on mental health and continue to add to our expanding list of nourishments."
They're also growing their facilities, with plans to open a new, 20,000-sq-ft manufacturing site (their third in Birmingham) to increase production capacity by 1,000%. "This year, we have begun our exciting partnership with Colgate and Patina which has been incredible," she says. In their work with Colgate, the partners are teaming up to deliver stacks specifically for oral care. "There are some extremely exciting partnerships, new ingredients, and innovative product ranges launching soon!"
Having been an entrepreneur and business owner since she was 23, Snover is no stranger to overcoming challenges. "I am passionate about creating innovative solutions that make a real impact on the end consumer, but creating the technology for Nourished was probably one of the biggest challenges of my career. Whenever you are creating a world first, it can be a laborious task as there is no rule book or guide to refer to," she says.
Nourished spent 18 months developing the hardware and trialing different formulations to encapsulate the active ingredients. As Snover explains, "We found some of the raw ingredients really difficult to mask their natural flavors, especially ashwagandha, which has a particularly unpleasant taste. We spent a long time in the R&D lab testing different natural flavorings, which would help to complement and mask the wide range of 35 different vitamins, nutrients, and super-foods that we launched with, but we are extremely proud of the end result and the delicious 3D-printed stacks which we have today!"
---