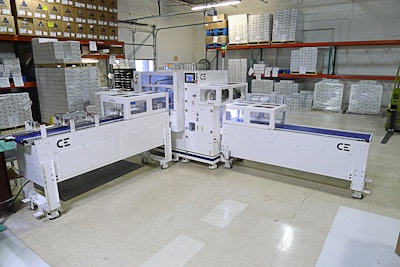 In early 2020, understaffing was a challenge for many manufacturers as the COVID-19 pandemic began to spread like wildfire. But in addition to this worldwide issue, everyday staffing issues were already leading to low productivity for Reese Pharmaceutical Company—a privately held manufacturer of OTC branded and private label products selling to national and regional chains, food and grocery stores, drug wholesalers, co-ops, and independent pharmacies.
In 2019, the Cleveland-based company's secondary packaging line was fully automated, except for the end of the line, where finished product bundling and shrink-wrapping were still done manually by a two- to three-person team. Each bundle was oriented, stacked, and banded by a human technician. This forced the line to operate at 60% to 70% of its throughput capacity versus the 80% to 85% that was possible if the line could run at the full speed afforded by automation. Three main issues caused this decrease:
A bottleneck in the manual carton stacking component, which couldn't keep up with the 18,000 to 20,000 unit per day production, resulting in frustrating downtime
Changes to usual staffing arrangements due to illness, position changes, and other staffing issues, leading to understaffing of the manual component
Realizing the huge importance of solving these problems, Reese researched possible equipment solutions, but struggled initially to find anything already on the market.
Assuming there was no existing solution, they turned to the more expensive and headache-inducing option of arranging a custom solution that could automate the processes involved and integrate with the existing line—a process Reese's operations manager, Jeff Reese, referred to as, "a big mess."
"Going custom would have been tough and expensive. We didn't have any machines like the one we needed," he said. "There would have been a lot of head-scratching and legwork to design and build something from the ground up. It would have put a lot back on our plate given how much we'd have to be involved."
Not only would this process have been slow and demanding, but there would be no guarantee that the custom machine would operate successfully once installed.
Integrated system solves customization dilemma
While looking into custom solutions, Reese was introduced to Controls Engineering, and its Madison Banders Array Pack (AP-25). This automated stacking and banding system is capable of fully integrating with the Reese line, making it the right fit for the company's needs.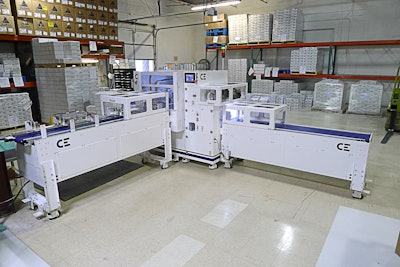 The AP-25 provides automated carton stacking, indexing and banding for both vertical and horizontal stacked cartons. It has been designed with enough flexibility to interchange quickly between various bundle configurations as well. Jason Kenney, president, Controls Engineering, reports that changeover typically takes five minutes, thanks in part to synchronization of the Festo C Model CMMP four-axis servo-controlled motors for quick changeover between package and stack configurations with less stress on the motors than typically found in multi-motor solutions. The system can handle items from 1- x 1- x 3- in. to 12- x 11- x 4-in. View the machine in action.
The AP Stacker can:
Provide standalone stacking
Be coupled with the bander
Be coupled with the bander and CE Auto Roll Changer
After speaking with Controls Engineering and determining that the AP-25 was indeed the solution Reese had been looking for, the company decided to implement the Array Pack as a more or less turn-key stacking and banding solution. The AP-25 effectively eliminated the bottleneck and further automated Reese's secondary packaging line.
Following their first Array Pack installation in March of 2019, the immediate impact and sustained improvement in productivity prompted Reese to procure two additional machines in an effort to reach higher productivity levels on other lines as well.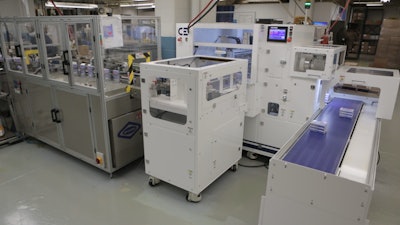 "As far as I know, there wasn't anything like the Array Pack on the market. We went to the trade shows. We did our homework. There was nothing else out there," explained Reese. "If we went custom, we would have obviously incurred way more costs. It would have taken way more time, and honestly, it probably wouldn't be anywhere near the Array Pack in terms of capability. It perfectly fit our processes. We met the company. Jason Kenney and the customer service were incredible. I was sold pretty much instantly."
The company's second Array Pack installation followed in May of 2020. A third installation took place in August of 2020. Reese has plans to purchase additional machines from Controls Engineering.
Benefits from increased productivity to increased customer satisfaction
Since their first implementation in March of 2019, Reese has seen a 20% to 25% increase in throughput productivity. The company has also witnessed a 50% reduction in labor costs as the personnel required on the line has been cut in half. "Almost immediately, we were able to reassign positions and reduce staff on our line from four people down to two. In some instances, we've taken it from six people down to three, depending on the job that we're running," Reese said.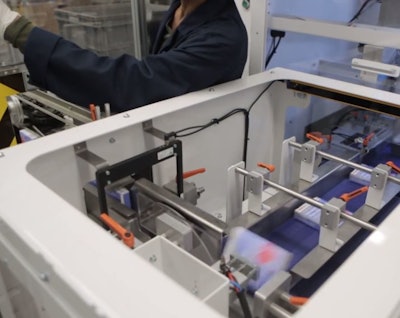 Furthermore, with a variety of change-out parts provided as part of every install, Reese's frontline technicians are able to save each configurability setting it uses across its various product lines directly into the machine. This enables technicians to save time switching over, which minimizes downtime.
Reese noted the configurability is a great feature in that there are "just a couple change-out parts and then changing the setting. It takes very little time and our basic technicians can do it with ease. That time savings really adds up as we grow and add more products to the line."
Another benefit Reese has seen is better customer satisfaction with the convenient stretch film bundles. While not easily quantified, the company reports a more consistent, user-friendly bundle from the Array Pack compared to the manual bundles it produced before.
"The bundles are more consistent and definitely improved aesthetically. They're just nicer to look at and handle. Without the human element, the cartons are being oriented one way and one way only. When our customers get our packages, you know that it's a lot cleaner, they're a lot neater, a little more consistent. That might seem like a small detail, but it's important to us because it's really important to them," he said.
Reese highlighted the importance of the strong customer service experience that has served to strengthen and expand the relationship. "I personally haven't dealt with a company that's been as receptive and helpful as Controls Engineering," he said. "Anytime I can recommend them to somebody else that is dealing with the same issues that we were, I do. Just because of the experience and the relationship that we have been able to have with Controls [Engineering]—I really don't have a bad thing to say. And I couldn't ask for anything more from a partner than what they've been able to offer us. They've made our lives easier in more ways than one."
Companies in this article