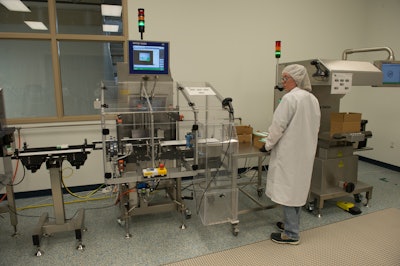 As the November/December print issue of Healthcare Packaging went to press, the life sciences community was right at the Nov. 27 Drug Supply Chain Security Act (DSCSA) enforcement deadline for manufacturers and repackagers to affix or imprint a product identifier to each package and homogenous case.
That same deadline faced Catalent Biologics, a drug development, delivery and supply partner whose mission is to get better biologic products to the patients who need them faster. The company's "Patient First" culture involves providing development and manufacturing of pharmaceuticals, biologics, consumer health and beauty products from early development through clinical trials and on to commercial supply.
With track-and-trace deadlines looming both in the U.S. and in Europe, Catalent's Bloomington team needed to add serialization and aggregation capabilities to an existing vial and syringe packaging suite at their facility.
"We were looking for a track-and-trace system that would satisfy customers' of the Bloomington biopharmaceutical facility," says Rebecca Book, Catalent's Senior Process Engineer. "We started by talking to six different equipment suppliers and then accepted bids from three. Our top considerations were compliance, cost, turnkey implementation, ease of use and customer service." Based on those criteria, Book notes, "Mettler-Toledo PCE had the highest score overall."
Turnkey approach
"The biggest factor that tipped the scales was that Mettler-Toledo offered us a turnkey line," adds Edward Krause, Catalent's Principal Manufacturing Specialist. "We liked that they provided everything, from the equipment and software to integration and support. The similarities across all their solutions make it easy to train operators and troubleshoot."
The new serialization-aggregation system was added to a line at Catalent Bloomington that produces a variety of biologic products in vials from 2 mL to 20 mL, and in prefilled syringes from 0.5 mL long to 5 mL standard, which are packaged in cartons. Added in 2017, the equipment represented the company's first track-and-trace capabilities on an existing vial and syringe packaging suite.
Serialized data is printed directly onto the side of the cartons, and customers can choose to aggregate them into bundles and then cases or aggregate the cartons directly into cases. Cases are then aggregated to pallets for shipping.
"Historically, our facility has run mostly small batches because our customers are involved in clinical trials before they seek approval from the FDA. To maximize our production flexibility and minimize waste, we chose a mixture of manual and automated track-and-trace solutions," says Krause. "However, we're now handling more commercial products with larger batch sizes as our customers' programs evolve and reach market. This equipment is able to scale with us as we further automate parts of the line."
Intuitive controls
Catalent installed the PCE Site Manager Level 3 software at their Bloomington, Indiana facility to control data for this first line and all future PCE-equipped track-and-trace lines. In addition to managing serial numbers and product, order and line information, the software connects to TraceLink, a multi-tenant cloud program used for two-way communication between Catalent Bloomington and its customers.
The Site Manager is connected to the line via PCE's Line Manager Level 1-2 software, which controls order information by communicating with intelligent devices including cameras, scanners, printers and reject mechanisms.
"The PCE system software makes everything easier, from running diagnostics to training operators," says Krause. "We use multiple security levels for 21 CFR Part 11 compliance and appreciate that each employee can only access what they need, so nobody sees 'extra' buttons."
Since cartons are the salable unit, the first PCE machine on this line is the automated XMV Datamatrix Station, where serialization information is printed directly on the carton with an inkjet printer. To verify the information is correct, a smart camera inspects the data for accuracy and quality, and a pneumatic reject device removes the carton from the line if there are any errors.
"This system is great. It's user-friendly and has fantastic accuracy," notes Abbi Coleman, Equipment Lead at Catalent.
If a customer requires bundling, the Bloomington site uses a PCE T2660 Manual Aggregation Station for aggregating cartons to bundles. The operator scans the 2D codes on the cartons to record the serial data and creates parent-child relationships between the cartons and bundles. The printer generates a serialized bundle label and the operator applies the label after bundling the cartons.
Catalent's site in Bloomington also has a second T2660 down the line to aggregate cases to pallets, with a third station maintained offline for rework. "These systems are incredibly versatile—they can handle our customers' many products and package formats," Book explains. "We could actually aggregate at every step using a single T2660, but we chose to purchase three to increase our throughput."
Shipping case station
To further increase efficiency, Catalent Bloomington selected the multiple-code-reading PCE T2650 Shipping Case Station to aggregate cartons or bundles at the case packer.
Instead of manually scanning each carton or bundle, the operator loads a layer into the case, and the high-resolution camera scans the 2D codes on all the cartons or bundles in the layer at once, creating parent-child relationships. After the case is filled, the printer generates a serialized label, which is manually applied to the case.
"We chose the T2650 because of its efficiency and accuracy," says Coleman. "In addition to being faster and more secure than hand scanning, it has a camera that automatically moves as each layer is packed to maintain the ideal focal length, which reduces the need for operator intervention and improves the photo clarity." Cases are then moved to the final T2660 Manual Aggregation Station at the palletizer where they are aggregated prior to shipping.
Upstream checkweigher
Upstream of the PCE track-and-trace systems, Catalent's Bloomington site relies on an XS3 checkweigher from Mettler-Toledo Hi-Speed to detect any over- and under-filled cartons. A pneumatic push arm automatically removes any packages from the line that may have missing or extra products or inserts, while approved packages are conveyed to the XMV.
"This checkweigher is user-friendly and accurate. Its reject verification sensor gives us certainty that every approved carton is the correct weight," says Krause. "We also chose an option where two or three off-weight packages in a row will cause the conveyor to stop. This enables us to take action to quickly identify the cause of the issue."
Coleman says, "Overall, we've had a great experience with dependability and uptime on all of our Mettler-Toledo systems. The equipment and software are all laid out in ways that are easy to understand, so routine maintenance is a breeze."
Companies in this article