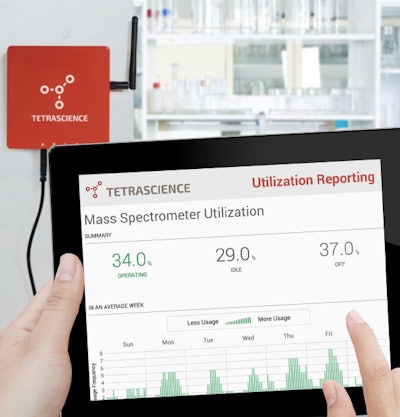 CRT-based desktop computers; pen and paper for note taking; scattered, disparate lab instruments from a large variety of manufacturers. Such is the scene in a typical life sciences R&D lab, where researchers come in at 2 a.m. to perform experiments because that's when they can fit an instrument's schedule with their own.
As a scientist in the George Whitesides Lab at Harvard University, Alok Tayi and his colleagues were often frustrated with the tools available to run experiments, and the lack of connectivity between instruments. "The tools available to us simply haven't changed in the past half century," Tayi said. Meanwhile, Tayi was watching the proliferation of the Internet of Things (IoT) and connectivity in the home—remote monitoring, remote control, alerts and notifications for everything from temperature to threats—and wondering why those IoT tools hadn't penetrated into the laboratory environment, where such capabilities would have so much more value.
After a decade and a half as a scientist, Tayi co-founded TetraScience, dedicated to building an IoT platform specifically focused on life sciences R&D. At the recent LiveWorx conference in Boston, he explained not only the need for improved connectivity and automation in the lab, but also the opportunity.
Wet lab industries spend about $250 billion a year on R&D. Pharmaceuticals make up 32%, or $80 billion, of that. "That's a lot of money, but very few medicines are actually brought to market," Tayi said. "There were only 22 new drugs last year. A lot of money comes in, but very little value goes out." Some 45% of the dollars spent in biopharma R&D are wasted every year, he added.
Much of the problem comes in the fact that data and process are heavily siloed. "Scientific instruments product data and require in-person authorization," Tayi noted. "So, men and women run around from geography to geography with pen and paper and collect data."
Humans not only have to mediate the flow of data from one point to another, but also have to be there in person to operate experiments. "They're postponing the work until it's convenient for them rather than optimal for the process," Tayi said. Pharma prices are out of control, and manufacturers are under pressure to do something about that. "Pharma companies have to look inward into how to recover those costs," Tayi said.
TetraScience has created an IoT platform specifically targeted at wet lab industries such as pharma, biotech and agriculture, with two core needs in mind: operational data, to understand operationally what's happening in the laboratories; and the scientific data associated with scientific experiments.
TetraScience Link is a hardware module that connects to any existing lab instrument to enable cloud-based monitoring, alerting and data storage. The technology uses APIs to ingest data and drive communication to devices, and can also feed other data management systems within the organization.
In a large pharmaceutical company, there can easily be more than 100 systems of record inside the organization. When a person is responsible for taking lab data and entering it manually into those systems, errors propagate.
This is a problem that instrument manufacturers themselves have been trying to address lately, but the sheer number of instrument manufacturers within one lab means that labs still have to deal with a very fragmented work environment. "In a lab like Merck or Pfizer or others, there are hundreds of thousands of manufacturers. You don't want different standards or software across all of those," Tayi said. "TetraScience supports the ecosystem by having one set of rules, with one software platform."
The use of TetraScience means that science experiments could be operated remotely, personnel could be alerted if the equipment isn't working, and companies could monitor instrument usage.
As one example, Tayi described a typical lab scene in which samples must be weighed, much the same way as meat or cheese is weighed at the deli counter. "Data accuracy and compliance is very critical to experiments," he said. "A scientist will weigh 50-100 samples in a row, manual weighing, and writing everything down with pen and paper. They repeat that 50-100 times. At the end of the day or the end of the week, they retype that into the system. It all takes two to three hours on a daily basis."
Instead, with TetraScience, they could stream the data automatically to one single location. "They could collect it all digitally—accurately—and attribute it to a specific scientist for compliance purposes," Tayi said. "It would reduce the time by 60%."
The key benefits include faster cycle times, improved compliance and better data quality. In one case that Tayi highlighted, TetraScience translated to 35% greater output per scientist, 13% savings in capital budgets, and 49% better procedural compliance. In another case, it meant $150,000 greater value per scientist, $3.2 million savings in capital budgets, and less compliance risk.
One benefit to the system is to show how the instruments are being used. In one case study with a $30 billion pharma company, the goal was to decrease budgets. They had 3,000+ capital equipment pieces with a value exceeding a billion dollars. "They had over 800 different types of equipment in the organization made by over 4,000 different suppliers," Tayi noted, adding that just one mass spectrometer can cost half a million dollars, while a centrifuge could run $10,000 to $100,000. "But every single instrument looks the same, and it's hard to distinguish one from another and identify how one ought to be investing."
With the TetraScience dashboard, the pharma company could make data-driven decisions about how to invest, identifying bottlenecks where some instruments were being overused, and making decisions about where underused instruments could be moved for higher value.
The result has been a lower capex of about 10%, and a lower opex of about 13%. "That's a $10 million per year impact in savings, which can be invested elsewhere in the company," Tayi said.
The TetraScience platform is now being used in more than 30% of the top 20 pharmaceutical companies. It is critical to 70 of the largest pharma, biotech, and oil and gas companies in the world, Tayi said. With it, projects can scale to days, month or years—or can potentially sit in a lab for decades without it, he added.